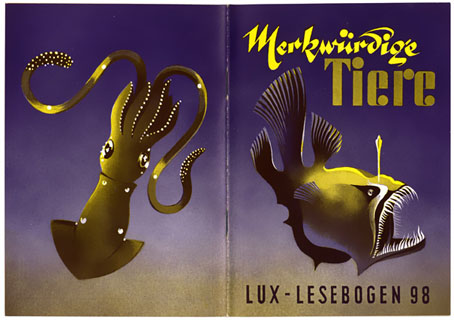 Illustration and design by Karlheinz Dobsky.
Above and below: samples from Die Lux-Lesebogen-Sammlung, an exhibition of booklets for young people published by Sebastian Lux from 1946–1964. All were designed and illustrated by Karlheinz Dobsky.
• At The American Scholar: "Vladimir Nabokov's understanding of human nature anticipated the advances in psychology since his day," says Nabokov biographer Brian Boyd, and An Unquenchable Gaiety of Mind: "On visits to Cambridge University late in life, Jorge Luis Borges offered revealing last thoughts about his reading and writing," says George Watson.
• The British Library releases The Spoken Word: "A rare collection of recordings featuring the American writer William S Burroughs and the British-born artist Brion Gysin." Related: Interzone – A William Burroughs Mix by Timewriter.
• Charting the Outlaws: Christopher Bram (again) talking to Frank Pizzoli about his recent study Eminent Outlaws: The Gay Writers Who Changed America.
• The BBC asks "Where are you on the global fat scale?" I've always been thin but was still surprised to find my BMI at the very bottom of the scale.
The "otherness" of Ballard, his mesmeric glazedness, is always attributed to the two years he spent in a Japanese internment camp in Shanghai (1943–45). That experience, I think, should be seen in combination, or in synergy, with the two years he spent dissecting cadavers as a medical student in Cambridge (1949–51). Again the dichotomy: as a man he was ebulliently social (and humorous), but as an artist he is fiercely solitary (and humourless). The outcome, in any event, is a genius for the perverse and the obsessional, realised in a prose style of hypnotically varied vowel sounds (its diction enriched by a wide range of technical vocabularies). In the end, the tensile strength of The Drowned World derives not from its action but from its poetry.

Martin Amis on The Drowned World by JG Ballard.
• The Chickens and the Bulls: "The rise and incredible fall of a vicious extortion ring that preyed on prominent gay men in the 1960s."
• It's that Zone again: Jacob Mikanowski on Andrei Tarkovsky's Stalker and Geoff Dyer's Zona.
• Scans of the rare film programme for London screenings of Fritz Lang's Metropolis.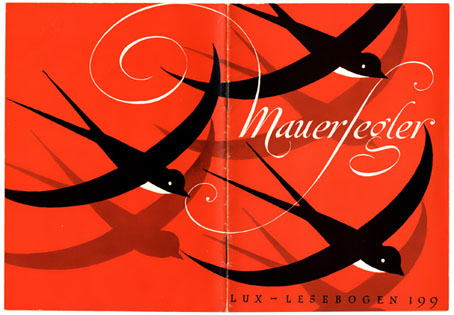 Illustration and design by Karlheinz Dobsky.
• "The web is a Library of Babel that could go the way of the Library of Alexandria."
• Fila Arcana: alchemy- and occult-themed embroidery by Mina Sewell Mancuso.
• A Very Edgy Alice In A Very Weird Wonderland: illustrations by Pat Andrea.
• Malka Spigel reveals a new track from her third solo album.
• John Martin and the Theatre of Subversion.
• Olafur Eliasson: Little Sun at Tate Modern.
• Meanwhile, back in 1972: Mahavishnu Orchestra live at the BBC (30 mins), and the complete performance of the MC5 on Beat Club (29 mins).