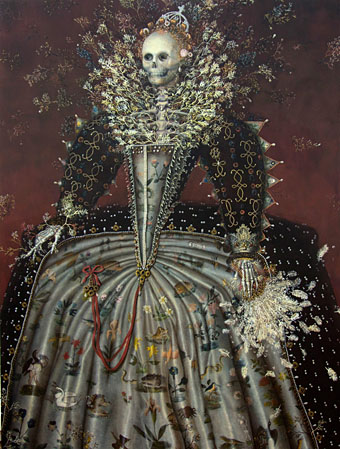 Heartbeat of the Death – Queen Elizabeth the First (2013) by Haruko Maeda.
• "The casual mixing of people from across the world at The Garden broke down many barriers. Its rich, beautiful, smart, and successful people were confident enough to exercise the kind of sexual freedom that would land you in jail elsewhere in the country." Kate Webb on Alla Nazimova's Hollywood estate, The Garden of Alla.
• "…from 1956 to 1970 Borges taught English literature at the University of Buenos Aires, and now, over half a century later, one of his courses is finally available in English in a slim, delightful volume." Will Glovinsky on Professor Borges. Related: Jacob Mikanowski says "To Tlön: Let's Invade Reality".
• Mixes of the week: Secret Thirteen Mix 084 by Koen Holtkamp—Alice Coltrane, Alan Watts, John Cage, Popol Vuh, Faust and others—and Sequenze E Frequenze, "the rarefied outer limits of 'stare at the sun, outsider peaked' Italian music".
Consider the fate of the concept of 'futuristic' music. The 'futuristic' in music has long since ceased to refer to any future that we expect to be different; it has become an established style, much like a particular typographical font. Invited to think of the futuristic, we will still come up with something like the music of Kraftwerk, even though this is now as antique as Glenn Miller's big band jazz was when the German group began experimenting with synthesizers in the early 1970s.

Where is the 21st-century equivalent of Kraftwerk? If Kraftwerk's music came out of a casual intolerance of the already-established, then the present moment is marked by its extraordinary accommodation towards the past. More than that, the very distinction between past and present is breaking down. In 1981, the 1960s seemed much further away than they do today. Since then, cultural time has folded back on itself, and the impression of linear development has given way to a strange simultaneity.

Mark Fisher on the present cultural moment, and the weirdness of Sapphire and Steel.
• At Front Free Endpaper: A Gay Library Thing and French Line Gay Pulp Cover Designs. Callum is also giving away books by Frederick Rolfe/Baron Corvo to anyone who asks. The proviso is you write a short review for his blog.
• Film director Ben Wheatley on Don't Look Now: "I felt a great panic come over me". Elsewhere it was announced this week that Wheatley is planning a film of JG Ballard's High Rise.
• Brits may remember the wonderful Laurie Pike from the Manhattan Cable TV show in the early 1990s. These days she's writing an online guide to the city of Paris.
• Ben Frost has made three previously unreleased recordings available at Bandcamp.
• The Media History Digital Library: 800,000 pages of film and radio periodicals.
• The results of three derives in London by Christina Scholz here, here and here.
• The late Seamus Heaney reads his own translation of Beowulf here and here.
• High Rise (1979) by Hawkwind | Pop Sicle (1994) by High Rise | High Rise (2005) by Ladytron