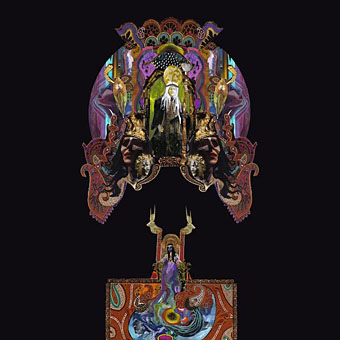 Crashing Diseases And Incurable Airplanes (2014) by USA Out Of Vietnam. Artwork by Amy Torok.
Amy Torok's cover art for the debut album by Canadian band USA Out Of Vietnam is pleasingly reminiscent of the surreal and psychedelic collages of Wilfried Sätty. The music within has been described as "a cross between ELO and Sunn O)))" which it is up to a point, although to these ears the group are more in the Sunn O))) camp than the post-Beatles pop of Jeff Lynne and co. The sound is big whatever label you apply, and promises much for the future.
• Mysterious creatures of Monterey Bay Aquarium's 'Tentacles'. The Aquarium bought one of my drawings last year for this exhibition which juxtaposes tentacular artwork with live creatures. The show runs until 2016.
• Jon Hassell's 1990 album, City: Works Of Fiction, has been reissued in an expanded edition including a live concert collaboration with Brian Eno, and a collection of remixes/alternate takes.
• Photographer Jonathan Keys uses antique camera equipment to give his views of contemporary Britain a patina of the past.
• Roman Polanski and the man who invented masochism. Nicholas Blincoe on Leopold von Sacher-Masoch and Venus in Fur (sic).
• Mixes of the week are by James Pianta, E.M.M.A. (whose Blue Gardens album I helped design), and Balduin.
• Sweet Jane unearths another great article about psychedelic London: The Fool and Apple Boutique, 1968.
• "Did Chris Marker think history to be not only an infinite book but a sacred one?" asks Barry Schwabsky.
• Front Free Endpaper on the story behind the cover photo of A Boy's Own Story by Edmund White.
• Mapping the Viennese Alien Event Site. Christina Scholz explores another Zone.
• Moondog: The Viking of 6th Avenue. The first and only movie about Moondog.
• Rick Poynor on rediscovering the lost art of the typewriter.
• At BLDGBLOG: 100 Views of a Drowning World.
• Miguel Chevalier's magic carpets
• Venus In Furs (1967) by The Velvet Underground | Sex Voodoo Venus (1985) by Helios Creed | Venus As A Boy (1993) by Björk