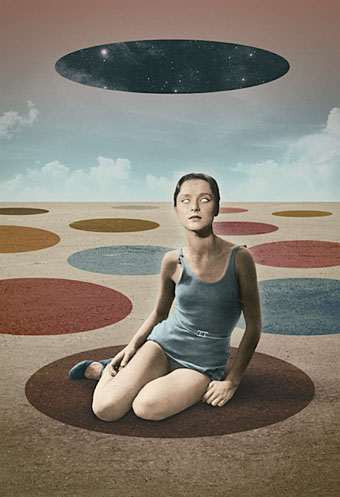 13 Circles by Julien Picaud.
• The 50th anniversary of the Apollo Moon landing is only two months away so it's no surprise that Brian Eno's Apollo: Atmospheres And Soundtracks is being reissued. The latest release will include an additional disc of new music by Eno with his collaborators from the original sessions, Daniel Lanois and Roger Eno. Related: the Apollo 11 Command Module as an explorable (and printable) 3D model.
• From the real Moon to the presence of the satellite in myth and history, the next book from Strange Attractor will be Selene: The Moon Goddess & The Cave Oracle, a volume which is also the final work by the late Steve Moore. With a foreword by Bob Rickard, and an afterword by Alan Moore.
• Guitar-noise maestro Caspar Brötzmann released a handful of thrilling albums in the 1990s then disappeared from view. Spyros Stasis talked to Brötzmann about his hiatus and his recent resurfacing on the Southern Lord label.
• A year late, but I didn't know Paul Schrader had written an updated introduction to his 1972 study of Ozu, Bresson and Dreyer, Transcendental Style in Film. I love the idea of "The Tarkovsky Ring" as a directorial event horizon.
• "Nothing written is utterly without value, as I proved to myself by reading two random works." Theodore Dalrymple on the lasting worth of "worthless" books.
• Cinemagician: Conversations with Kenneth Anger, a documentary by Carl Abrahamsson about the director/writer/magus.
• Mirror, Mirror: When Movie Characters Look Back at Themselves by Sheila O'Malley.
• From Susan Sontag to the Met Gala: Jon Savage on the evolution of camp.
• Mix of the week: Secret Thirteen Mix 289 by Mondkopf.
• Portrait of the Artist as a Consumer: Anne Billson.
• A video by IMPATV for Religion by Teleplasmiste.
• Obscure Sound ~ Cosmic: a list.
• Mira Calix's favourite records.
• Transcendental Overdrive (1980) by Harald Grosskopf | Transcendental Moonshine (1991) by Steroid Maximus | The Transcendent (1999) by Jah Wobble