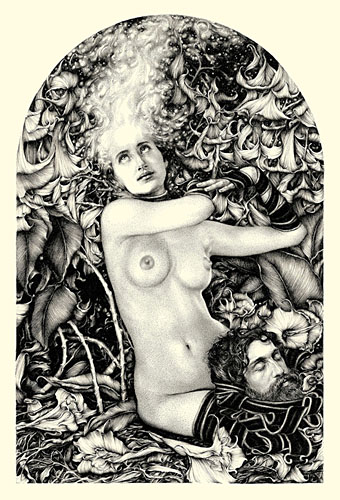 Salome (2013) by Lucie Hardie.
• Aickmanesque, "A list of films that possess the same strange ambiguities, disturbing illogicalities, grim mundanities, psychological unpleasantness, narrative open-endedness, Freudian oddness and genuine disturbing moments of horror as the short stories of Robert Aickman." One of those films, Symptoms (1974), has been out of circulation for a long time but may be watched at YouTube.
• "If this was psychedelia, then it had more in common with the variety peddled by US bands like The Rain Parade, The Three O'Clock…and The Bangles…all of whom had been grouped into a movement known as The Paisley Underground." Joseph Stannard looks back at Around The World In A Day by Prince And The Revolution.
• "…what I do is not magical realism. I do realistic magic." Alejandro Jodorowsky talking to Ilan Stavans about writing and filmmaking. A substantial interview in which Jodorowsky isn't forced to express himself solely in English.
[Angela] Carter thoroughly upset the bien pensants with her essay The Sadeian Woman (1978) where she argued that Sade "was unusual in his period for claiming rights of free sexuality for women and in installing women as beings of power in his imaginary worlds … I would like to think that he put pornography in the service of women, or, perhaps, allowed it to be invaded by an ideology not inimical to women." She also makes the connection between Sade's misanthropy, as she calls it, and his splitting of women's bodies from "the mothering function". McQueen seems to me to fascinate for similar reasons. Some of the pull he exerts on huge numbers of people arises from this side of his sensibility: there's no hint of motherhood; he disliked the way that traditional décolletage revealed the breasts, and instead encased the whole female torso in coiled silver, mussel shells or razor clams—even glass.

Marina Warner on Alexander McQueen whose Savage Beauty exhibition is currently running at the V&A
• London's American poster king: Graham Twemlow on E. McKnight Kauffer's posters for the London Underground.
• At Celluloid Wicker Man: Electronic music and mental illness in cinema.
• Mix of the week: Secret Thirteen Mix 154 by Moniek Darge.
• #1 (1994), the first album by Skylab, has been reissued.
• Tamborine (1985) by Prince And The Revolution | Indigo (1994) by Skylab | Metronomic Underground (1996) by Stereolab