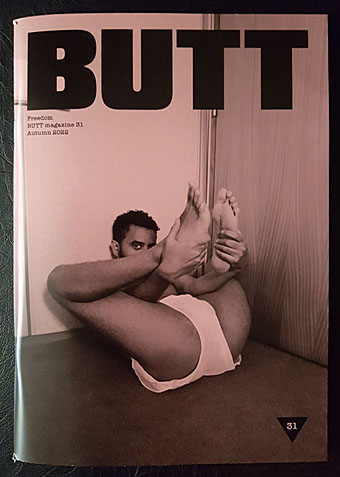 Yoni by Kuba Ryniewicz.
My favourite gay mag, BUTT, resurrected itself in September by publishing a new issue, something I only discovered by accident and might easily have missed altogether. I ordered a copy as soon as I saw the news. The BUTT brand (for want of a better term) has been continually active via the magazine's website but with ten years having elapsed since the appearance of the 29th issue I really didn't expect to see another one. The new issue of the self-styled "Fantastic Magazine for Homosexuals" is no. 31 which leaves us to ponder the question of the missing 30th issue.
Whatever the reason for the numbering it's good to see BUTT continuing as before, as though it hadn't been dormant for such a long time. The new issue is almost exactly the same as previous numbers: slightly taller, slightly longer (100 pages) and with its first glossy cover. Under the covers the formula remains the same, all pink paper (with a familiar fresh-paint aroma), minimal design, sporadic nudity and informative interviews. The egalitarian nature of the latter has always been one of the attractions of the magazine, which in this issue features those with public profiles—Hilton Als, Arca, Durk Dehner of the Tom of Finland Foundation—and those without, like cover star Yoni (an Ethiopian currently living in Newcastle) and Stas, a Ukrainian DJ.
• Distribution: UK | EU | US/World
Previously on { feuilleton }
• BUTT covered