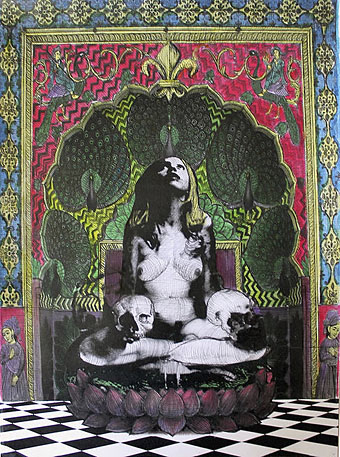 Encounter with the Priestess by Robert Buratti.
• "We were gothy, we loved the New York thing and people like Suicide, Dave loved Throbbing Gristle, we both loved the Sheffield bands…we loved the darkness to that kind of electro." Marc Almond talking to Simon Price. Also at The Quietus, Cat's Eyes choose their favourite soundtracks.
• "When he reveals that all he wants is to deliver a breakfast sandwich, the enigma of his desire is not so much dispelled as redoubled—why on earth would anyone want to do that?" Adam Kotsko on the unheimlich nature of old Burger King ads.
• "…commercial design is full of politics, to be a commercial designer is a political decision." Jonathan Barnbrook talking to Katrina Schollenberger.
You need to know who Billy Wilder was. You need to know the names of people who are no longer alive. Because it's very important—it's what our history is made of. You need to see the movies the way they were—with the racism, the violence, and the censorship. All the things that let you see what the movie past had been so you understand where we are! But really nobody's interested in that right now. Their interests are so bifurcated.

Joe Dante discussing film production past and present with Michael Sragow.
• From 1983: The Encyclopedia of Ecstasy, Vol. 1, a publication which creator Alistair Livingston describes as a "psychedelic goth punk fanzine".
• Mixes of the week: No One's There, a collection of post-punk electronica by Abigail Ward, and Secret Thirteen Mix 146 by Te/DIS.
• Frans Masereel's My Book of Hours is "a crucial example of the power of stories without words," says Stefany Anne Golberg.
• Miles Davis and band in concert, 18th August, 1970. Pro-shot, 45 minutes.
• Lots of good reading and cultural connections at Celluloid Wicker Man.
• A world map of micro-nations
• Tainted Love/Where Did Our Love Go? (1981) by Soft Cell | Tainted Love (1985) by Coil | Titan Arch (1991) by Coil with Marc Almond