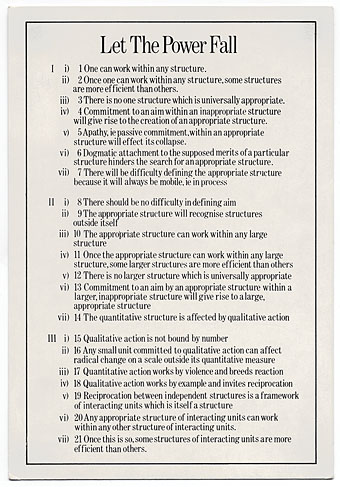 Let The Power Fall (1981) by Robert Fripp. A postcard included with the original vinyl release of the Let The Power Fall album.
• Exposures 1977–1983 is the title of another wallet-busting CD/DVD/blu-ray box which will be released by DGM at the end of May. Unlike the previous King Crimson sets this one will be devoted to Robert Fripp's first run of solo releases, covering the albums that emerged from the artistic campaign he described at the time as "The Drive to 1981": Exposure (1979), God Save The Queen/Under Heavy Manners (1980), The League Of Gentlemen (1981), and Let The Power Fall (1981). If you're as interested as I am in this period of Fripp's career then this is all very exciting. Exposure has been reissued several times over the years, and exists in three different "editions" featuring alternate mixes and song variations, but the other albums have been unavailable in any form for decades, possibly as a result of the turmoil caused by the mismanagement and eventual collapse of the EG label. In addition to the reissues the box will include live recordings, a League Of Gentlemen Peel session plus a substantial quantity of Frippertronics material, including the loops that were recorded for Eno & Byrne's My Life In The Bush Of Ghosts. Fripp retained a credit for his contribution to Regiment but the results are so far down in the mix that they're easy to miss. Related: The Drive to 1981: Robert Fripp's Art-Rock Classic Exposure.
• Galerie Georges-Philippe & Nathalie Valloisin, Paris, is currently creeping out visitors to Strange Aeons—We will meet you there, an exhibition by Peybak (Peyman Barabadi and Babak Alebrahim Dehkordi) that borrows its title from HP Lovecraft and includes a number of creatures, "neither embryos nor chimeras", which may be found prostrate and breathing on the gallery floor.
• New music: Sub Zero, in which Kevin Richard Martin returns to the subterranean/subaqueous/subarctic zones he charted on his Isolationism and Driftworks compilations in the 1990s; plus The Carrier by Large Plants, an album of "psych rock belters" coming soon on the Ghost Box label.
• Science fiction as revolution: Joe Banks talks to Iain McIntyre, co-editor of Dangerous Visions and New Worlds—Radical Science Fiction, 1950–1985, about the flourishing of the New Wave of SF in the 1960s and 70s.
• "We know from his letters that Joyce sent a Greek flag to Nutting for him to colour-match. So, he was aiming for 'Greek' blue." It's that book again. Cleo Hanaway-Oakley on Ulysses, blindness and blue.
• Intermittent Eyeball Fodder: More visual delights gathered by S. Elizabeth.
• Steven Heller's font of the month is Nicholas.
• Galerie Dennis Cooper presents…Liz Larner.
• Let The Power Fall (1971) by Max Romeo | Minor Man (1981) by The League Of Gentlemen ft. Danielle Dax | Heptaparapashinokh (1981) by The League Of Gentlemen