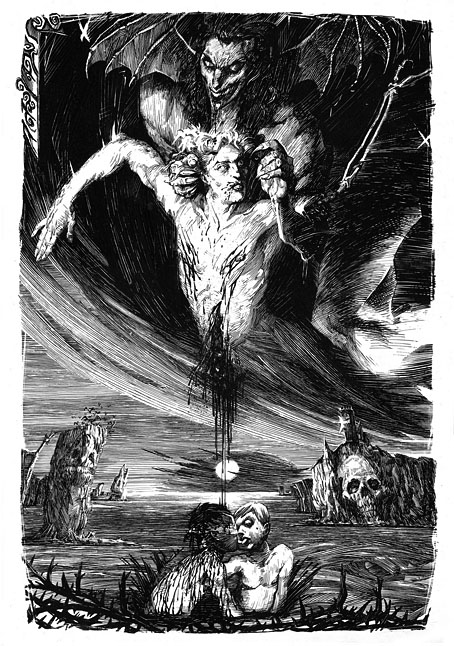 Les Chants de Maldoror by Corominas (2007).
There seems to be no escaping from HP Lovecraft just now, the illustration above having been created for a PDF publication entitled CTHULHU, Cómics y relatos de ficción oscura, produced by these people. The Cthulhu-zine seems to be unavailable but you can see more of these splendid illustrations, based on Lautréamont's Les Chants de Maldoror (1869), at Dorian Gray BD. The artist, Corominas, has an additional blog showcasing more commercial work.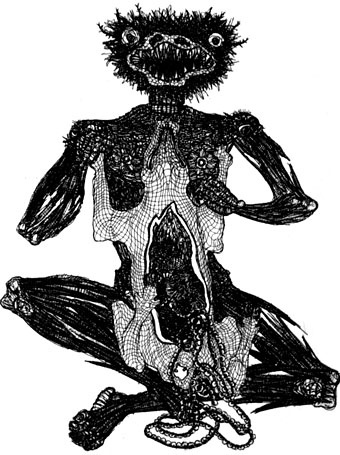 Les Chants de Maldoror by Jacques Houplain (1947).
Lautréamont's delirious masterpiece isn't exactly the easiest book to illustrate but the Corominas drawings certainly capture some of its ferocious energy. The Surrealists were big Maldoror enthusiasts, of course, and did much to establish Lautréamont's current reputation. Salvador Dalí produced a series of engravings for a Skira edition in 1934 although his drawings look less like illustrations of the text than a rifling of the artist's usual preoccupations. The picture above by Jacques Houplain is one of a series of twenty-seven engravings produced for a French edition in the 1940s. More recently, Jean Benoît created (among other things) a Maldororian dog and there's even been an attempt at a comic-strip adaptation from Hernandez Palacios. On the whole I prefer the Corominas pictures but then I'm biased towards that style of drawing which owes something to all the comic artists and illustrators influenced by Franklin Booth.
Elsewhere on { feuilleton }
• The illustrators archive
• The etching and engraving archive
Previously on { feuilleton }
• Franklin Booth's Flying Islands
• Carlos Schwabe's Fleurs du Mal
• The art of Jean Benoît