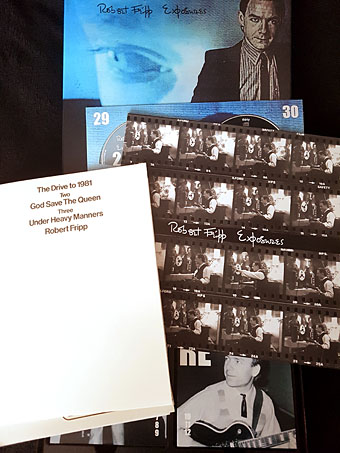 This colossal collection turned up yesterday. I'm still working my way through its contents: 25 CDs, 3 DVDs and 4 blu-rays; the CDs all run for at least 70 minutes each so these alone provide about 30 hours of music. The box covers three phases of Robert Fripp's "Drive to 1981": his debut solo album, Exposure; his Frippertronics guitar recordings, both live and in the studio; and his short-lived New-Wave dance band The League Of Gentleman. All cult stuff in this house, obviously, you don't buy 32 discs on a whim.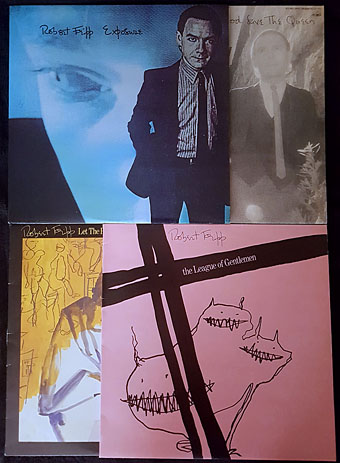 The original vinyl. Looks like I'll have to hold on to my LoG album (see below).
Exposure is present here in multiple versions which might seem like overkill but it's an unusual album that was compromised from the outset by record company interference. Fripp's original intention in 1977 was for it to be released simultaneously with two connected albums, the others being Peter Gabriel II and Sacred Songs by Daryl Hall; songs from Exposure appear in different versions on the other albums, Gabriel and Hall both sing on Exposure, and Fripp produces all three works. The problem with this ambitious scheme is that Daryl Hall was subject to greater commercial pressure from his record company than were Fripp or Gabriel; RCA not only shelved the "uncommercial" Sacred Songs for three years but they also refused to let Hall sing on all the songs Fripp had planned with him for Exposure. Record company refusals also put a stop to a planned version of I Feel Love which would have been sung by Debbie Harry. In order to rescue the album several of the Hall songs were redone with new lyrics and new performances by Terre Roche and Peter Hammill, all of which has led to the contents of the album being fluid enough to sustain the various mixes which Fripp calls "Editions". On this new set you get early drafts with extended mixes of the Frippertronic sequences, all the alternate takes including Daryl Hall's original vocals, and a new "Fourth Edition" mixed by Steven Wilson which was much better than I expected. Wilson has had a parallel career in recent years remixing many well-known albums from the 1970s, not always to their benefit. I've been listening to this album for over 40 years yet the new mix contains things I'd never heard before, as well as being heavier and punchier than it's sounded in the past.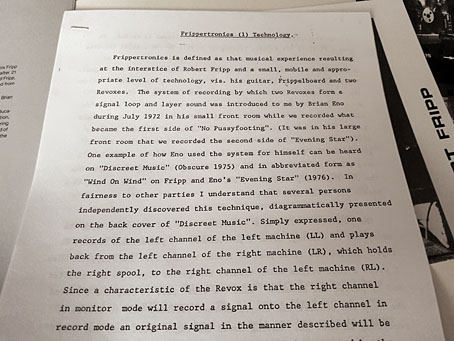 Frippertronics explained.
But the real highlight for me here is all the Frippertronics material. I've always liked this period of Fripp's career which was essentially a guitar-driven equivalent of Brian Eno's ambient music, developing the process begun on the (No Pussyfooting) and Evening Star albums. Or it was in its "pure" form… "Applied Frippertronics" was the term given to the familiar Revox-looped guitar tones when used as a backing for disco-inspired instrumentals, and even a rather plodding and eccentric song, Under Heavy Manners, sung by David Byrne. In addition to copious recordings of pure Frippertronics there are also more of the applied variety in this set than I ever expected to hear.
There's no point attempting a proper review of all this material, I'll leave that to others. But there are a few surprising omissions worth noting. The original release of the self-titled League Of Gentleman album was framed by about 6 minutes of tape collage, Indiscreet I, II & III, made from Fripp's recordings of friends and colleagues. These vanished from the cut-down CD release of the album in 1985, and they haven't returned here. Also absent are similar taped moments that were mixed into the original versions of Cognitive Dissonance, HG Wells and Trap plus three shorter tracks, Pareto Optimum I, Pareto Optimum II and Ochre, all of which were tape-loop pieces with an organ as the instrument. I bought the League Of Gentleman album when it was released so it feels incomplete without the shorter musical pieces and the "indiscretions". The omission of the latter is thrown into further relief by the proximity of Exposure which contains similar taped voices (Brian Eno, Fripp's mother, the ubiquitous JG Bennett) scattered between the songs, yet all of these have been present in every release of the album. Worst of all, since it's always been a favourite song, is the absence of Danielle Dax's vocal from the new mix of Minor Man. The original sounds like this.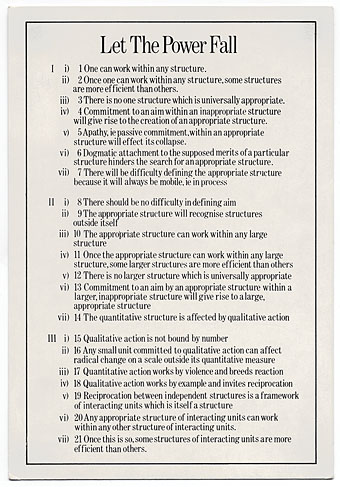 Another omission is this list of principles which appeared on the back of the Let The Power Fall album and also on a postcard inside the album. It's not really essential to appreciation of the music but it was a statement of Fripp's philosophy in the late 1970s, and his concern with being a "small, mobile, intelligent unit" working in opposition to those he termed "dinosaurs", ie: the big record companies like RCA who were often working against the best interests of their artists. The booklet inside the Exposures box reproduces all the artwork from the original albums plus the artist photos that appeared as postcards with some of the releases but not this item. Even if Fripp no longer agrees with its sentiments it would at least seem historically relevant.
I think I'm done now with the big DGM boxes, and yet… If there was another one collecting all the studio and live recordings that Fripp recorded with David Sylvian in the 1990s I'd be tempted. The First Day album is one I like more than most of the King Crimson music from the same period, and the pair happened to play a version of Exposure (the song) on their tour. There's at least one high-quality bootleg from that tour in existence, plus odd tracks that only appeared on EPs, so who knows what else might be in the archives. How about it, Mr Fripp?
Further reading/viewing:
• Exposure promo video
• Exposures contents list
• The Exposure pages at Elephant Talk
• Robert Fripp interviewed in Synapse magazine, 1979 [PDF]