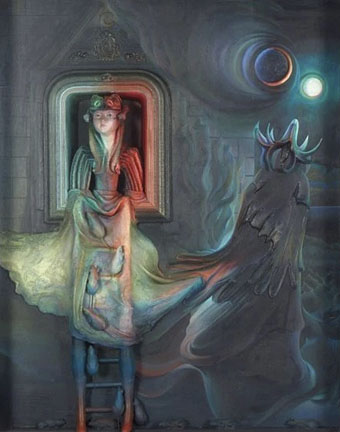 Diane (1977) by Mimi Parent.
• Richard Pinhas expounds upon his favourite musical choices for Warren Hatter. The influence of Robert Fripp has always been to the fore in the Pinhas oeuvre—an early track by Heldon is titled In The Wake Of King Fripp—so there was bound to be a King Crimson album on the list. But which one? Click through the selections to find out.
• Vinyl is the product of a toxic manufacturing process, as well as being difficult to recycle without releasing yet more toxins, but you seldom see these issues discussed by today's quality-conscious vinyl fetishists. Jono Podmore talks to some of the people trying to create an eco-friendly disc.
• "…these Renaissance images shock us because they are so frequently ithyphallic: Christ has risen, but not in the way we have come to expect." Hunter Dukes on ostentatio genitalium in Renaissance art.
• At Wormwoodiana: Mark Valentine on those music projects that used to be described as "hauntological", with an emphasis on The Machinery of the Moment, a new release from The British Space Group.
• "Like Delia Derbyshire jamming with This Heat." Jesse Locke tours the Broadcast discography.
• 50 Watts announces the birth of 50 Watts Books, a publisher of strange and/or unusual art books.
• "Black lights turn this North Carolina mine into a psychedelic wonderland."
• At Dennis Cooper's: Bill Morrison Day.
• Black Lightening Light (1968) by The Shy Guys | Black Light (1994) by Material | Transmission Nine: Black Light (2013) by Pye Corner Audio