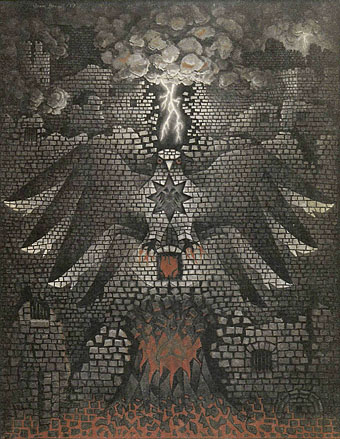 Hommage au Marquis de Sade (1959) by Jean Benoît.
BENOÎT Jean (Quebec, 1922). In Paris, 1949, he undertook a strange enterprise called The Execution of the Testament of the Marquis de Sade which kept him busy for two years. It is a very complicated costume, made up of superimposed coverings and accompanied by important accessories. Each element of the ensemble (medallion, tights, crutches, panels, mask, boots, wings, tomb, push-chair, membrum virile, codpiece, chastity-belt, with tattooing thrown in) transposes some aspect of Sadian thought into plastic terms. The work was to be worn during a special ceremony which took place December 2, 1959, at Joyce Mansour's, the evening preceding the International Exhibition of Surrealism ("Eros") in Galerie Daniel Cordier. In 1965 Benoît completed another work for carrying round as a tribute to Sergeant Bertrand, a famous nineteenth-century necrophile, The Necrophile, and a sculpture, The Bulldog of Maldoror, which he presented at the international surrealist exhibition "L'Ecart absolu", Galerie L'Oeil, in the same year, 1965.

José Pierre, A Dictionary of Surrealism, 1975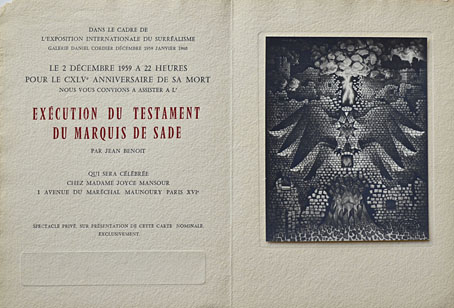 But it is the Execution of the Last Testament of the Marquis de Sade, finally staged in 1959, that lies at the heart of Benoît's oeuvre. Often cited but rarely analysed, it is one of the most significant works of post-war surrealism. On December 2, at the home of the surrealist poet Joyce Mansour, attended by around a hundred invited guests. the event began with the crescendo of a volcano—a sound recording of street noises made by Radovan Ivsic—followed by a second recording of Breton reading out the Marquis' last testament, specifying de Sade's (never heeded) desire for his body to be treated and laid to rest in an anonymous grave. Benoît's detailed notes specifying every element of his complex and extensive dress and accoutrements were read out loud as [Mimi] Parent helped Benoît, arrayed in this extraordinary costume, slowly remove each item one by one. Layered suits, masks, crutches, panels, ornaments, and accessories made from diverse materials laden with symbolic images and signs evoked intense masked tribal ceremonies and rituals; no photographs of the event were permitted, but Benoît staged its elements for a haunting series of images by Gilles Ehrmann taken in an abandoned building. At the culmination of the ceremony, Benoît revealed himself naked save for a wooden phallus incorporating an hourglass, his body entirely painted and with arrows pointing to the spot over his heart at which he then proceeded to brand himself with the word "SADE." This performance represented an intense and irrevocable stripping bare of the self in order to restore lost powers, to release de Sade from his incarceration, to seal a community, and to cut through the poverty of contemporary existence in the most dramatic but unrepeatable terms; it is consistent with this sense of a unique and all-powerful gesture that Benoît would not seek to reprise such an event again.

Krzysztof Fijalkowski, The International Encyclopedia of Surrealism, 2019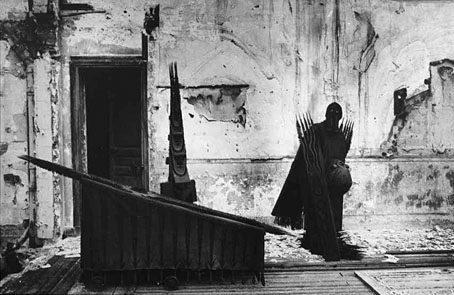 All photographs are by Gilles Ehrmann.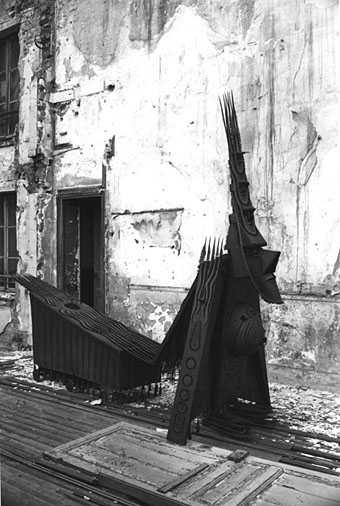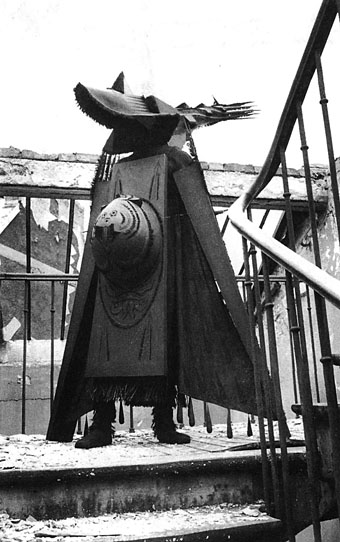 Continue reading "The Execution of the Testament of the Marquis de Sade by Jean Benoît"