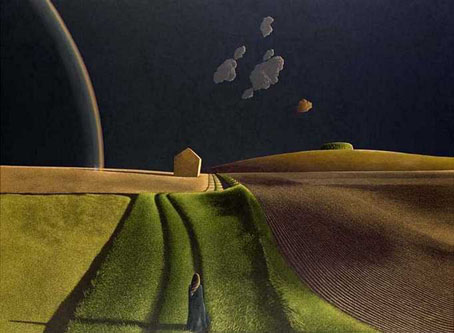 She Did Not Turn (1974) by David Inshaw.
• "Pauline Kael compared Bruce Lee to Fred Astaire; I think the comparison works better with Rudolf Nureyev. Astaire had a besuited, playful grace, while Nureyev was shirtless, dramatic, and muscular. Astaire moved with athletic modesty, while Lee's bravura dominated the screen." Micah Nathan on 50 years of Enter the Dragon.
• New music: This Stolen Country Of Mine by Alva Noto, and Denshi Ongaku No Bigaku (The Aesthetics of Japanese Electronic Music) Vol.1 by Cosmocities Records.
• At Cartoon Brew: A profile of Sally Cruikshank. The spooky psychedelia of Face Like a Frog has long been a favourite round here.
• "My Life in a Hop, Skip and a Jump!" Clive Hicks-Jenkins answers a few questions about his art.
• At Public Domain Review: Hokusai's Illustrated Warrior Vanguard of Japan and China (1836).
• More martial arts: Tom Wilmot on Bruce Lee's greatest fight scenes at Golden Harvest.
• Submissions to the Astronomy Photographer of the Year Awards.
• At Dennis Cooper's: Lucrecia Martel Day.
• RIP Jane Birkin.
• Enter The Dragon (1974) by The Upsetters | Dragon Power (A Tribute To Bruce Lee) (1978) by JKD Band | Edit The Dragon (1985) by Colourbox