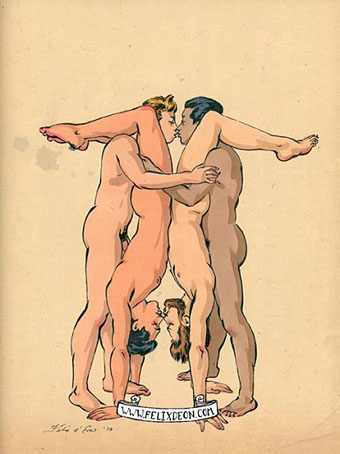 Untitled art by Felix D'Eon. Via Dangerous Minds.
• "The music inside lived up to the cover's challenge: a collage of pop-culture nostalgia, hard-rock guitar, piano-driven melodies, stylised high vocals, strange musical structures and experimental sound pictures. Roxy Music's eponymous album sounded like nothing else in 1971 and 1972—and like nothing else the group would ever attempt again." Jon Savage on the creation of Roxy Music's debut album.
• Behind the scenes of the BFI's forthcoming Derek Jarman box-sets. Jarman appears in a rare acting role (not one of his strengths) in Dead Cat (1989) a short film by David Lewis which is only now being released on DVD.
• Rob Young's long-awaited book about Cologne's finest, Can, has finally been given a publication date. All Gates Open: The Story of Can will be published by Faber in May.
• At the Lever Gallery, London: UNCOVERED: Illustrating the Sixties and Seventies. Wallpaper magazine has a related feature about the exhibition.
• Trim Tabroid [sic]: Yui Takada's Instagram showing Japanese tabloid pages reduced to abstraction by careful pruning.
• On Fairy Tales: Carol Mavor and Marina Warner in discussion for the London Review Bookshop podcast.
• Mixes of the week: XLR8R podcast 527 by Peter Van Hoesen, and Secret Thirteen Mix 245 by Chikiss.
• Dubbing is a Must: Oli Warwick on the modern sound of leftfield dub.
• This Book Is Bound in Lab-Grown Jellyfish Leather.
• Cornelius's Favourite Albums
• Dubism (1976) by The Upsetters | Dub Fi Gwan (1979) by King Tubby | Dub Yalil (1995) by Natacha Atlas