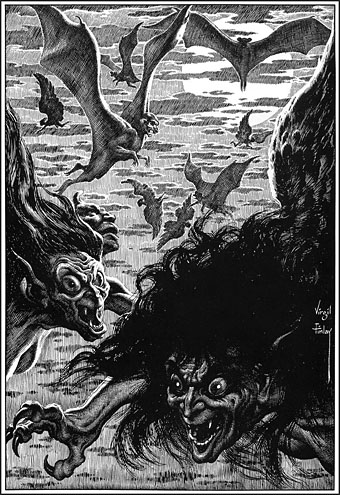 Virgil Finlay illustrates Hallowe'en in a Suburb by HP Lovecraft for Weird Tales, September 1952.
• Literary Hub does Halloween with an abundance with Draculas, a lazy option but the pieces are good ones nonetheless: Olivia Rutigliano attempts to rank the 50 best (screen) Draculas, and also recalls the Broadway production designed by Edward Gorey. At the same site, Katie Yee discovers that The Addams Family (1991) is really about the importance of books.
• The inevitable film lists: the always reliable Anne Billson selects the scariest ghosts in cinema; at Dennis Cooper's, TheNeanderthalSkull curates…DC's Weirdo Halloween Horror Movie Marathon, a list featuring a couple of oddities which have appeared in previous weekend links.
• More books bound with human skin: Megan Rosenbloom, author of Dark Archives: A Librarian's Investigation into the Science and History of Books Bound in Human Skin discusses the subject with S. Elizabeth.
Beyond all this, however, readers are most likely to read De Quincey for his compellingly strange writing on opium and its effect on the mind. For it is opium, rather than the opium-eater, he writes in Confessions, who "is the true hero of the tale". He explains the drug cannot of itself create imaginative visions—the man "whose talk is of oxen" will probably dream about oxen. But for De Quincey, with his love for reverie, it gives "an inner eye and power of intuition for the vision and the mysteries of our human nature". Wine "robs a man of his self-possession: opium greatly invigorates it". It "gives an expansion to the heart and the benevolent affections". "This", he claims, "is the doctrine of the true church on the subject of opium: of which church I acknowledge myself to be the only member."

"Thomas De Quincey's revelatory writing deserves greater attention," says Jane Darcy
• New music: Weeping Ghost by John Carpenter is a preview of the forthcoming Lost Themes III; Moments Of Clarity is a new album of psychedelic(ish) songs from Professor Yaffle.
• "How now, you secret, black, and midnight hags!" Sean Connery (RIP) was often playing kings in later life but he started early with this performance as Macbeth in 1961. (Ta to TjZ for the link!)
• Mixes of the week: a (non-Halloween) guest mix by Paul Schütze for Toneshift, and the by-now traditional Samhain Séance Mix from The Ephemeral Man.
• Clive Hicks-Jenkins' big new adventure: an illustrated "reinvention" of Jean Cocteau's La Belle et la Bête.
• Drew McDowall (of Coil, et al) talks Musick, magick and sacred materiality.
• "No one loves the smell of a Kindle," says Thomas O'Dwyer.
• Brüder des Schattens (1979) by Popol Vuh | Nosferatu (1988) by Art Zoyd | Vampires At Large (2012) by John Zorn