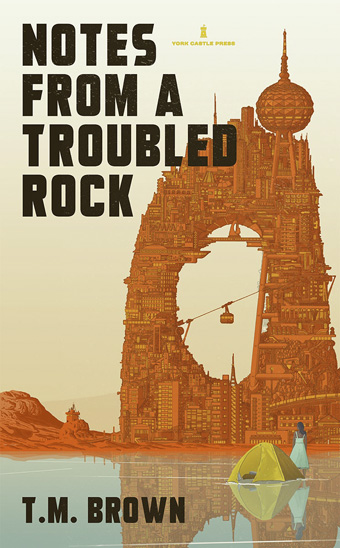 An imaginary book cover by Toby Melville-Brown.
• At the Internet Archive (for a change): Directory 1979, a collection of John Cooper Clarke's poetry designed by Barney Bubbles; 25 issues of Wrapped in Plastic, the magazine devoted to all things David Lynch; and Cinefantastique, 1970–2002, the magazine about special effects in cinema whose making-of articles were often the first such analyses published anywhere. No contents list for the latter, unfortunately, but the covers shown here give an idea of the main features.
• "Physicist Andreas Schinner recounted a rumor that the Voynich manuscript can be 'pure poison' for a scholarly career, because when studying the manuscript there's 'always an easy option to make a ridiculous mistake.'" Jillian Foley on the strange quest to decipher the Voynich manuscript.
• At the BFI: Stephen Puddicombe examines six mysterious paintings on film, and Anna Bogutskaya selects ten examples of Lovecraftian cinema. Regarding the latter, I deplore the omission of Huan Vu's Die Farbe (2011).
• In The Driver's Seat: Neil Fox on the demented fun of Nicolas Winding Refn's streaming site for cinematic obscurities, ByNWR.
• "Feed your head": Akim Reinhardt on the progress of a White Rabbit from Charles Lutwidge Dodgson's novel to Grace Slick's song.
• Mixes of the week: Marshland: The Andrew Weatherall Mix, and Music's Not For Everyone, hours of Weatherall mixes at NTS.
• Borderland, an album of music by Fordell Research Unit based on The House on the Borderland by William Hope Hodgson.
• At Dangerous Minds: Thirteen-year-old Mariangela and her adventurous pop album, produced by Vangelis, 1975.
• Heavy Metal, Year One: Kory Grow on the inside story of Black Sabbath's groundbreaking debut.
• "Theire Soe Admirable Herbe": How the English Found Cannabis by Benjamin Breen.
• Derek Jarman and friends in Dungeness: unseen pictures.
• Closing periods at Flickr.
• Heavy Rock (1976) by Sound Dimension | Heavy Denim (1994) by Stereolab | Heavy Soul (2002) by The Black Keys