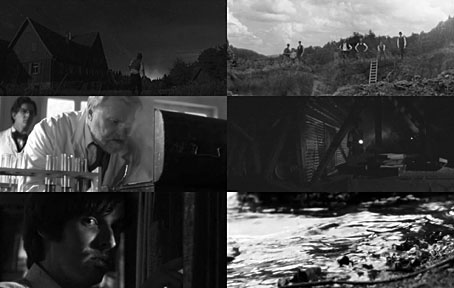 Die Farbe (2010).
The colour, which resembled some of the bands in the meteor's strange spectrum, was almost impossible to describe; and it was only by analogy that they called it colour at all. Its texture was glossy, and upon tapping it appeared to promise both brittleness and hollowness.

The Colour Out of Space (1927).
Die Farbe (The Colour) is a German feature film by Huan Vu based on HP Lovecraft's tremendous short story The Colour Out of Space. Vu's film was completed last year, and has been well-received at film festivals and by Lovecraft aficionados but I've been rather tardy in hearing about it. Better late than never.
Having adapted two-and-a-half stories, I tend to take a more than cursory interest in works based on Lovecraft's fiction. One of the reasons I tackled his works in the first place was out of frustration at the apparent inability of film producers and comic artists to treat the stories as they'd been written. The Colour Out of Space is one of the masterpieces of Lovecraft's mature period, and was the favourite of his own stories, a skilful blending of horror and science fiction in the tale of a fallen meteorite infecting a farm with an inexplicable process of decay and physical mutation. The mysterious colour is the product of some unearthly substance inside the meteorite which corresponds to no known part of the visible spectrum. This wasn't the first story of Lovecraft's that I read—I'd earlier found The Moon-Bog in a ghost story anthology—but it was the first that made a serious impression when I came across it in another anthology at age 12 or 13. Since then, whenever people ask me which Lovecraft stories to read first The Colour Out of Space is always one I recommend.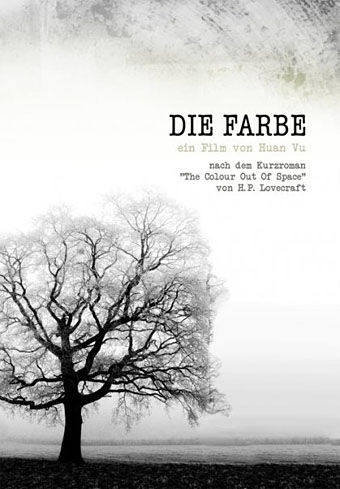 The story has been filmed before, twice as it happens, although I've only seen the first attempt, a lamentable AIP production from 1965 with the ludicrous title of Die, Monster, Die. This was jobbed out on the back of Roger Corman's Poe films, with Boris Karloff in the lead and Corman's production designer, Daniel Haller, directing. (Haller later directed the slightly better adaptation of The Dunwich Horror.) The story was shifted to England for no other reason than that's where AIP had been making films in the past year. In place of the alien weirdness you get Boris breeding outsize vegetables then going mad at the end with an axe. If you must, this DVD site has some screen shots while over at the Groovy Age of Horror they have a comic book based on the film—an adaptation of an adaptation. "Astounding! Strange! Weird!" No, no and no. Not having seen The Curse (1987), I can't comment on its quality or veracity although if it was any good I imagine we'd have been told about it by now.
Judging from the trailer, Die Farbe looks a lot better than most Lovecraft adaptations to date, never mind versions of this particular story. Anyone in or near Brighton (UK) can find out for themselves this week when Huan Vu's film is screened on Thursday (the 13th) at the latest Outer Church event at Komedia. For the rest of us, the film is now available on DVD and Blu-ray.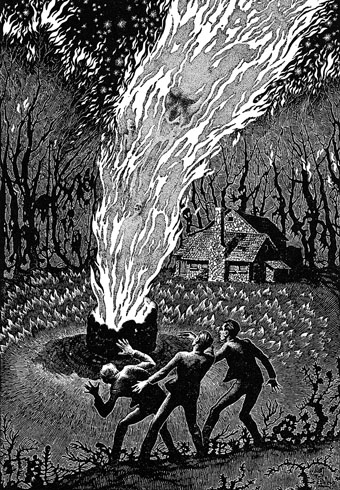 Lastly, I can't mention The Colour Out of Space without giving a nod to two of the story's first illustrators. The great Virgil Finlay created this marvellous piece for a 1941 reprint in Famous Fantastic Mysteries. Below there's a drawing by the most idiosyncratic of the early Lovecraft illustrators, Lee Brown Coye, part of a series of illustrations for a 1947 anthology, The Night Side, edited by August Derleth.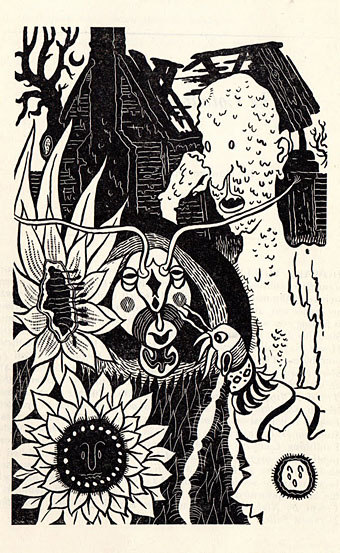 Elsewhere on { feuilleton }
• The Lovecraft archive