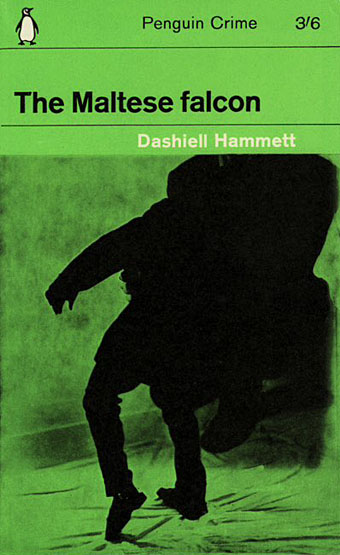 Design by Romek Marber, 1963.
• The death of Polish composer Krzysztof Penderecki prompted so many "Shining composer" headlines you have to wonder what kind of notices he might have received if his early work hadn't been purloined by Hollywood. György Ligeti always seemed ambivalent about having his music used as cinematic illustration (Kubrick annoyed him by altering some of it without permission) but Penderecki worked as a composer for Polish films in the 1960s, not only providing a score for The Saragossa Manuscript (1965) but also (surprisingly) writing music for a number of short animations. I've been listening to his music for almost 40 years, after a chance discovery of the stunning Threnody For The Victims Of Hiroshima led me to seek out more. I have to admit that the appeal of his recordings lay in their ability to thrill and terrify—qualities that musicologists seldom address—and I've never paid any attention to Penderecki's later work which was less of an assault on the senses. At The Quietus James Martin argues for listening to the entire oeuvre, not just the early works. For more about the composer's life and work, Culture.pl has a number of good articles, eg: Mazes, Notes & Dali: The Extraordinary Life of Krzysztof Penderecki, and Music Is Not for Everyone: An Interview with Krzysztof Penderecki.
• The late Romek Marber (1925–2020) was a designer/illustrator whose name is familiar to collectors of Penguin books via the Marber Grid, the template he created in the early 1960s for the Penguin Crime series, and which was later extended across the entire paperback range. Marber talked about this period of his work in Penguin by Illustrators in 2009. Elsewhere: Rick Poyner on Marber's design, and a suggestion for how the Marber Grid was designed.
• "…you'll see Lego and children's toys, but also Rawlplugs, tile spacers, Monopoly houses, cigarillo tips, curtain hooks, biofilters, Smarties tube lids, fishing beads, broken security seals, razor parts, bits of toothbrushes, roofing screw caps, medical lancets, golf tees, false teeth, plastic soldiers, posties' rubber bands, bungs and stoppers." Beachcomber Tracey Williams talks to Andrew Male about the undying ubiquity of plastic waste.
• "Thanks to Bookshop, there is no reason to buy books on Amazon anymore," says Alex Lauer. The caveat is that the service is limited to the USA. I order books direct from publishers or from eBay and Abe; the latter may be Amazon-owned but you're still paying most of the money to the individual sellers.
• Mixes of the week: Radio Belbury 19: Family Fun Time, and Through A Landscape Of Mirrors Vol. VII – France IV by David Colohan.
• "[Amanda Sewell's] Wendy Carlos: A Biography is a great work of scholarship," says Geeta Dayal.
• "Part of me expects to go on forever." David Barnett on Michael Moorcock at 80.
• "What is the point of a critic if not to tell the truth?" asks Rachel Cooke.
• John Boardley on medieval road-trips and the invention of print.
• Anna Bogutskaya on where to begin with the Weird West.
• Inside Tove Jansson's private universe by Sheila Heti.
• Memory Of Hiroshima (1973) by Stomu Yamash'ta's Red Buddha Theatre | Hiroshima Mon Amour (1977) by Ultravox! | Hiroshima (1982) by Borsig