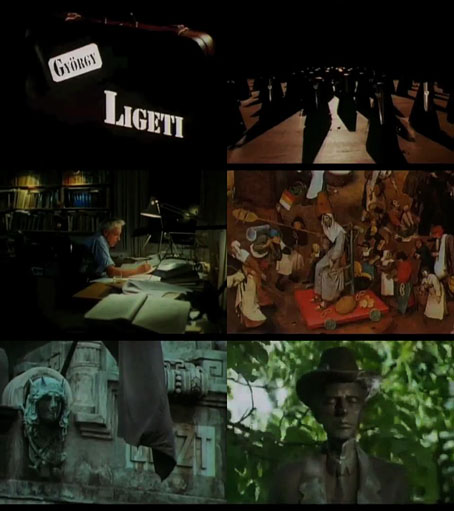 2023 is the centenary of György Ligeti's birth so here's an hour-long French documentary about the composer directed by Michel Follin. György Ligeti was made in 1993, two years after Leslie Megahey's BBC crew had paid a return visit to Ligeti's apartment to film an update to the Omnibus profile from 1976, All Clouds Are Clocks. The two documentaries complement each other rather well, although you'll have to take my word for this since Megahey's film has yet to appear on any video site. Both films interview Ligeti at the studio table where he wrote many of his compositions, and where he talks about his musical interests and intentions.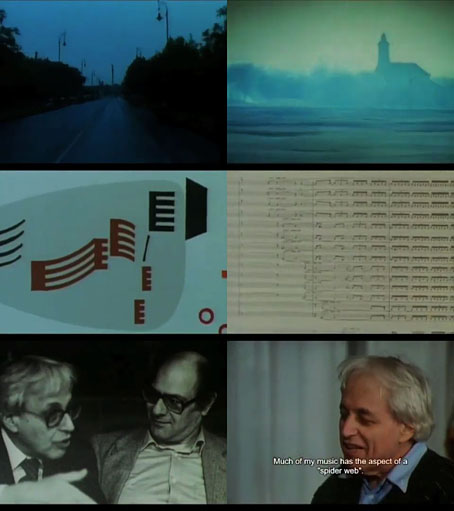 The two films differ in their approach to the world outside Ligeti's window. Megahey concentrated on the music, illustrating a number of lengthy recording extracts with footage of melting clocks, a wooden puppet, etc, whereas Follin attends to the biography, with Ligeti relating his personal history while also describing the evolution of his musical ideas. Ligeti's youth was a tumultuous one, encompassing the upheavals of the Second World War, during which he lost half his family to the Holocaust, and the later Communist years in Hungary when the kinds of modern music that he was trying to write were proscribed by the State. It's good to see him confirm the importance of Bartók's music to his growth as a composer. Ligeti's oeuvre contains many Bartók-like moments but I've often thought that regarding these as any kind of influence or reference might be a lazy comparison based on a shared nationality.
All of this reminds me that I recently picked up a copy of the 5-disc Ligeti Project in a charity shop but still haven't listened to it all the way through. Charity shops can be useful (and cheap!) sources of modern composition if you don't mind trawling week after week through iterations of the classics. Secondhand shops were my first introduction to music like this, providing the opportunity to sample the recordings of those mysterious names at a bargain price. Bargains are still to be found if you're patient, as with the Ligeti box. Other recent discoveries include Without Sinking by Hildur Gudnadóttir, and Memoryhouse, the first album by Max Richter, both of which were bought for a fraction of their usual asking price.
(A note about the film subtitles. These are an amateur translation which fails to recognise the names of Gyula Krúdy—the writer whose work Ligeti describes finding at an early age—and Paul Hindemith, the German composer.)
Previously on { feuilleton }
• Le Grand Macabre
• A playlist for Halloween: Orchestral and electro-acoustic
• Metronomes