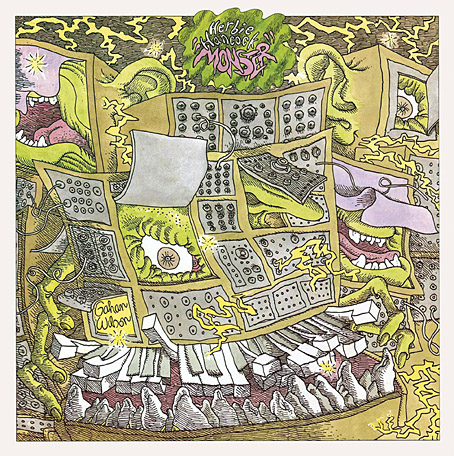 Cover art by Gahan Wilson for Monster (1980) by Herbie Hancock.
• RIP Gahan Wilson, a great cartoonist with a flair for horror, the macabre and grotesque. Many of his best cartoons are buried in back issues of The New Yorker, Playboy and National Lampoon but book collections of his work are worth seeking out. He also wrote regularly, and for several years was a film reviewer and columnist for The Twilight Zone Magazine, back issues of which may be found at the Internet Archive. Related: Gahan Wilson and the Comedy of the Weird, an interview with Wilson by Richard Gehr; The Beautifully Macabre Cartoons of Gahan Wilson by Michael Maslin.
• The Unanswered Question: Irmin Schmidt, the last surviving member of Can, interviewed by Duncan Seaman. The conversation is mostly about his solo work but he also mentions plans to release a collection of live Can recordings next year.
• Valerie and Her Week of Wonders (1970), the Surrealist fable directed by Jaromil Jires, receives a welcome region-free blu-ray release by Second Run in January.
At its best, the true psychedelic experience is an analogue of psychotherapy: you are encouraged to lean in to something potentially rupturing or even disturbing, in an attempt to achieve deep personal resolution rather than simply mind-scrambling hedonism or entertainment (which, to be fair, the group can provide as well). […] Despite clear and longstanding links with the extreme worlds of black metal, power electronics, industrial, sludge metal and doom, Sunn O))) have created a space that now stands beyond any obvious scene signifiers. This zone of pure affect—and what they hope will be a healing experience—is welcome to all.

John Doran on the vibrational power of Sunn O)))
• Neuland is an electronic collaboration by two ex-members of Tangerine Dream, Peter Baumann and Paul Haslinger.
• Flying teapots and electric Camembert: the story of Gong, prog's trippiest band by Simon Reynolds.
• Conversations with Ursula: Clive Hicks-Jenkins answers some questions about his art.
• Mix of the week: Test Transmission Archive Reel 38 by Keith Seatman.
• Limitation of Life: Tim Pelan on John Frankenheimer's Seconds.
• Anthony Madrid on the most famous coin in Borges.
• At Dennis Cooper's: Jacques Tati Day.
• The Magic Yard (1970) by Lubos Fiser | Valerie (2003) by Broadcast | Introduction (2007) by The Valerie Project