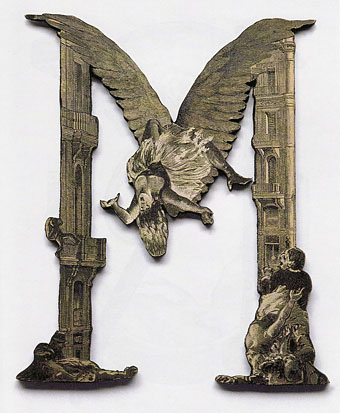 Letter M from Abeceda (1942) by Jindrich Heisler.
• At the BFI: Matthew Thrift chooses 10 essential Ray Harryhausen films. "This is, I can assure the reader, the one and only time that I have eaten the actors. Hitchcock would have approved," says Harryhausen about eating the crabs whose shells were used for Mysterious Island. Meanwhile, Alfred Hitchcock himself explains the attraction and challenges of directing thrillers.
"Although largely confined to the page, Haeusser's violent fantasies were even less restrained, his writings littered with deranged, bloodthirsty, scatological scenarios." Strange Flowers on Ludwig Christian Haeusser and the "Inflation Saints" of Weimar Germany.
• Death, Pestilence, Emptiness: Putting covers on Albert Camus's The Plague; Dylan Mulvaney on the different design approaches to a classic novel.
• A trailer (more of a teaser) for Last and First Men, a film adaptation of Olaf Stapledon's novel by the late Jóhann Jóhannsson.
• At Dennis Cooper's: Spotlight on…James Purdy: The Complete Short Stories of James Purdy.
• Al Jaffee at 99: Gary Groth and Jaffee talk comics and humour.
• Steven Heller on Command Records' design distinction.
• Czech Surrealism at Flickr.
• Solitude by Hakobune.
• Mysterious Semblance At The Strand Of Nightmares (1974) by Tangerine Dream | Mysterious Traveller (Dust Devils Mix) (1994) by System 7 | The Mysterious Vanishing of Electra (2018) by Anna von Hausswolff