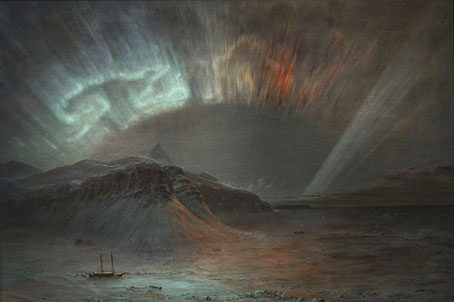 Aurora Borealis (1865) by Frederic Edwin Church.

• December is over-stuffed with enervating cultural lists, most of them reminding you of things which received enough attention earlier in the year. Better value than these—and always unpredictable—is John Waters' choice of favourite films; unpredictable and enlightening are the Secret Satan selections at Strange Flowers which come in two flavours: books originally published in English and books translated from other languages.
• Flash Of The Spirit (1988), a collaboration between Jon Hassell and African group Farafina (with production by Hassell plus Brian Eno & Daniel Lanois), receives its first ever reissue on double-vinyl and CD next year. The last piece on the album is the 11-minute Masque (Strength).
• "In 1968, Federico Fellini decided he was going make the greatest homosexual movie ever made. What he meant by a homosexual movie, no one was quite sure, but it was going to be great." Paul Gallagher on Federico Fellini's delirious (and distinctly homosexual) Satyricon.
• "Here's the typography of the next decade; the age of font minimalism is coming to a close," says Rachel Hawley. I've been using Didones for the past decade so I'll carry on happily ignoring the trends.
• More obituaries for comic artist Howard Cruse: Justin Hall at The Comics Journal; Trudy Ring at The Advocate; and Richard Sandomir at the New York Times.
• "Cowley records a kind of utopian sleaze that's breathtaking." Brett Josef Grubisic reviews Patrick Cowley's sex journal of the 1970s, Mechanical Fantasy Box.
• At the BFI: Carmen Grey on where to begin with Sergei Parajanov, and Matthew Thrift on 10 essential Fritz Lang films.
• A promo video by Julian House for Paul Weller's In Another Room EP which is released in January by Ghost Box.
• At Aquarium Drunkard: San Francisco Radical Laboratory and the Mysterious Moogist of Altamont.
• Mix of the week: Through A Landscape Of Mirrors Vol. V – France III by David Colohan.
• Aurora Australis (2005) by Émilie Simon | Iceblink (Aurora Borealis Mix) (2011) by Netherworld | Aurora Liminalis (2013) by William Basinski & Richard Chartier