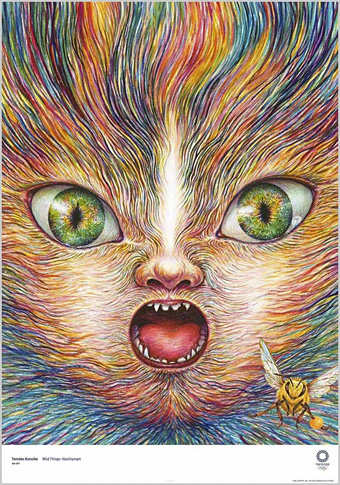 Wild Things – Hachilympic, a poster by Tomoko Konoike for the Tokyo 2020 Olympics.
• Hidden Jewels in 'The Garden of Orchids': Steve Toase on Der Orchideengarten (1919–1921), the German magazine of fantastic art and literature. Since the article doesn't mention it, I'll note again that the first Anglophone appraisal of the magazine (and also the place where it was drawn to the attention of myself and 50 Watts) was in Franz Rottensteiner's The Fantasy Book (Thames & Hudson/Collier, 1978).
• "In its furtive, sotto-voce way, Gorey's work is in conversation with gay history, gay literary influences, and, now and then, the gay-straight tensions of his time." Mark Dery on the attempts by Edward Gorey's readers and critics to ignore the obvious signs of a personal sexuality in his work.
• The Apotheosis of the Grotesque: illustrator Sidney Sime interviewed by Arthur H. Lawrence in The Idler, January 1898.
Goff would experiment with form, material, structure and ornament to almost absurd degrees. Materials he used in his buildings included aviation parts, goose feathers, oil rig equipment, orange artificial turf (on the roof), lumps of coal, and any kind of glass he could get his hands on. His 1948 Ledbetter House, also in Oklahoma, features a recurring motif of vertical lines of diamond-shaped glass studs set into doors and columns. In fact they are dime-store glass ashtrays.

Steve Rose on the restoration of "outsider architect" Bruce Goff
• At the BFI: Adam Scovell on where to begin with Delphine Seyrig; Kat Ellinger on giving Fellini's later films their due; and Matthew Thrift on 10 great Acid Westerns.
• RIP Ivan Passer and Neil Peart. A reminder that John Patterson described Passer's Cutter's Way as a cinematic masterpiece. So it is.
• Geeta Dayal on musician/composer Arthur Russell and yet another posthumous release.
• Haunted And Known, a new recording by Six Organs Of Admittance.
• At Dennis Cooper's: Hidden.
• 2112 (1976) by Rush | Xanadu (1977) by Rush | La Villa Strangiato (1978) by Rush