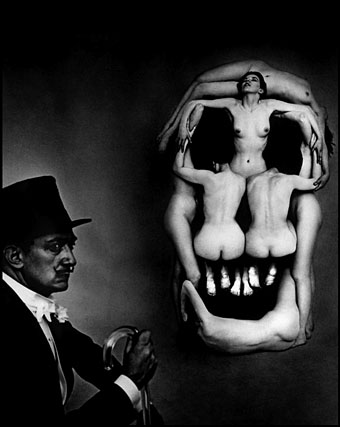 In Voluptas Mors (1951) by Philippe Halsman.
• "Equation to an Unknown (1980) is [Dietrich de Velsa's] only film, and stands without a doubt as a masterpiece and the best French gay porn ever made." Related (sort of): the US division of Amazon Prime had been showing a censored print of Francis Lee's gay romance, God's Own Country, until the director was informed and complained.
• "They lasted just one night as tour support for U2 before being thrown off. The outraged and hostile audience threw bottles of urine. The band responded by throwing iron bars back at them." Daniel Dylan Wray on the wild times (and cookery) of Blixa Bargeld and Einstürzende Neubauten.
• "Japanese art evolved, in Saunders's words, 'from a distinctive alchemy of silk, soot, gold, fire, and fur,' from a playful and curious fascination with the subject matter and tools provided by the natural world." Tamar Avishai on art in isolation: the delicate paintings of Edo Japan.
To me, the Diggers were a phenomenon. I don't know that there's been anything like them in history—yes, history repeats itself, so there probably was somebody at some time, I'm just not aware of it—a situation where you have a group of people whose goal is to help other people, to bring them not just the basic necessities you need to survive but the things that you need for your imagination, your brain, your growth on other levels. It was like an opium dream or something.

Siena Carlton-Firestone (aka Natural Suzanne) talking to Jay Babcock for the fourth installment of Jay's verbal history of the hippie anarchists
• A psychic has been ordered to pay the costs of exhuming Salvador Dalí's corpse for a failed paternity test.
• Feel the crushing steel: David Bennun on Grace Jones and the Compass Point Trilogy.
• Sleep Tones by Six Organs Of Admittance, name-your-price music for insomniacs.
• Mix of the week: XLR8R Podcast 645 by Juan MacLean.
• Playing the Piano for the Isolated by Ryuichi Sakamoto.
• David Lynch Theater presents: Fire (Pozar).
• Fire (1967) by Koko Taylor | Fire (1984) by 23 Skidoo | Fire (2002) by Ladytron