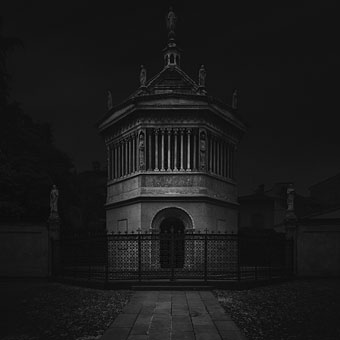 Battistero della Basilica di Santa Maria Maggiore, Bergamo (2017) by Mattia Mognetti.
• "Mumbo Jumbo: a dazzling classic finally gets the recognition it deserves." Jonathan McAloon on Ishmael Reed's unique novel being reissued as a Penguin Modern Classic.
• Amanda Gefter talks to Donald D. Hoffman, professor of cognitive science at the University of California, about "the evolutionary argument against reality".
• Geeta Dayal on composer Raymond Scott. A new compilation, Three Willow Park, collects more of Scott's electronic music from the 1960s.
Nagle critiques the follies of campus identity politics and social media liberalism not from the right, but as a left-leaning feminist. As she elucidates point after reasonable point, it feels as if a grown-up has finally entered the room. Like Mark Fisher, the Marxist critic who was savaged by his putative comrades for decrying "the stench of bad conscience and witch-hunting moralism" of the online left, Nagle has no sympathy for Twitter/Tumblr liberalism's "cult of fragility and victimhood mixed with a vicious culture of group attacks, group shaming, and attempts to destroy the reputations and lives of others". It is reassuring to find a self-described feminist disdaining the "hysterical" liberal call-out culture, and acknowledging that it has produced "a breeding ground for an online backlash of irreverent mockery and anti-PC". Without joining the forces of reaction or losing sight of the vileness of the alt-right, she writes of "the deep intellectual rot of contemporary political progressivism"; "the moral self-flattery of … a tired liberal intellectual conformity"; and "the hysteria and faux-politics of liberal Internet culture".

Rob Doyle reviewing Kill All Normies by Angela Nagle
• Mixes of the week: XLR8R Podcast 501 by Ryan Elliott, and ReMelodiya vol. 1 by Laurent Fairon.
• Sumit Paul-Choudhury on the slime mould instruments that make sweet music.
• The Wire Salon: an audience with photographer and writer Val Wilmer.
• Simon McCallum's list of 10 great lesser-known British LGB films.
• Zaria Gorvett on the ghostly radio station that no one claims to run.
• S. Elizabeth reposted her Coilhouse interview with me from 2010.
• "Boys are selling sex in Japan. Who is buying?" Boys For Sale
• At Spoon & Tamago: Ando Tadao's Hill of Buddha.
• At Dennis Cooper's: Gisèle Vienne Day.
• Sun Ra is now on Bandcamp.
• Shaolin Buddha Finger (1994) by Depth Charge | Atomic Buddha (1998) by Techno Animal | Psycho Buddha (2001) by Acid Mothers Temple & The Melting Paraiso U.F.O.