Undercurrent: a word whose meanings offer many worthwhile associations, from submerged currents of air and water to suppressed activities, and anything that moves unseen beneath the surface. Undercurrents is the latest release from A Year In The Country, artist and label, the latter having had a particularly busy year. The country happens to be the focus of the new release:
Undercurrents was partly inspired by living in the countryside for the first time since I was young, where because of the more exposed nature of rural life I found myself in closer contact with, more overtly affected by and able to directly observe the elements and nature than via life in the city.

This coincided with an interest in and exploration of an otherly take on pastoralism and creating the A Year In The Country project; of coming to know the land as a place of beauty, exploration and escape that you may well drift off into but where there is also a sometimes unsettled undercurrent and layering of history and culture.

I found myself drawn to areas of culture that draw from the landscape, the patterns beneath the plough, the pylons and amongst the edgelands and where they meet with the lost progressive futures, spectral histories and parallel worlds of what has come to be known as hauntology.

Undercurrents is an audio exploration and interweaving of these themes – a wandering amongst nature, electronic soundscapes, field recordings, the flow of water through and across the land and the flipside of bucolic dreams.
The electronic nature of these recordings contradicts the usual expectation that anything to do with the country—especially the English countryside—has to be presented in a folk idiom and with acoustic instruments. This adds further resonances to the theme, making me think of electric currents, dowsing maps and John Michell's eccentric (to say the least) take on Alfred Watkins' ley lines, which hauled Watkins' idea of trade routes used by ancient Britons into a New-Age soup of cosmic energy, numerology and UFOs. Michell's zone is a little more far out than A Year In The Country's explorations (and already mapped on albums by Tim Blake, Steve Hillage and others), the sounds here being more restrained and allusive, as they ought to be for undercurrents. The atmospheres are closer to Xenis Emputae Travelling Band but without the esoteric pattern, Earth mysteries intuited but left unresolved.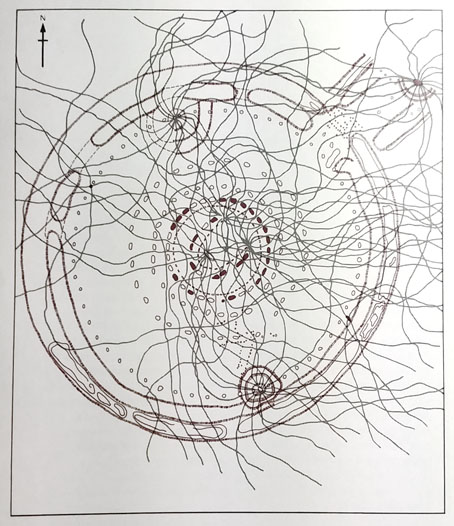 A map produced by dowsers showing alleged underground streams around Stonehenge. From The World Atlas of Mysteries (1978) by Francis Hitching.
Undercurrents will be released on 8th August in a range of monochrome formats, and is available to pre-order now.
Previously on { feuilleton }
• From The Furthest Signals
• The Restless Field
• The Marks Upon The Land
• The Forest / The Wald
• The Quietened Bunker
• Fractures