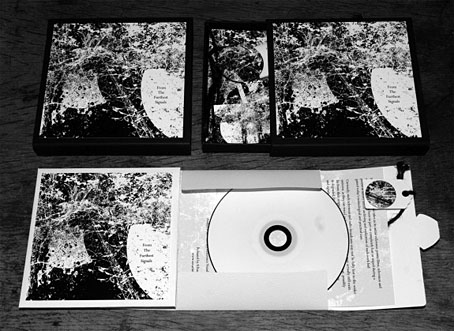 It's been a busy year so far for A Year In The Country with two themed compilation albums being followed this month by a third, From The Furthest Signals. The latest theme is an intriguing one, taking as its starting point the erasing of broadcast tapes by British TV companies in the 1960s and early 1970s which destroyed hundreds of hours of dramas, concerts and other programmes. This was done as a money-saving measure (tape being expensive and reusable) at a time when the output of the BBC and the independent stations was regarded as mostly ephemeral and of little value. There was also a patronising class aspect to the practice: John Peel used to bitterly remind people that the BBC had saved its tapes of gardening shows while wiping concerts by the likes of Captain Beefheart.
Track list:
1) Circle/Temple – The Séance/Search for Muspel-Light
2) David Colohan – Brass Rubbings Club (Opening Titles)
3) A Year In The Country – A Multitude Of Tumblings
4) Sharron Kraus – Asterope
5) Time Attendant – The Dreaming Green
6) Depatterning – Aurora In Andromeda
7) Sproatly Smith – The Thistle Doll
8) Field Lines Cartographer – The Radio Window
9) Grey Frequency – Ident (IV)
10) Keith Seatman – Curious Noises & Distant Voices
11) Polypores – Signals Caught Off The Coast
12) The Hare And The Moon – Man Of Double Deed
13) Pulselovers – Endless Repeats/Eternal Return
14) Listening Center – Only The Credits Remain
All those wiped broadcasts may be lost down on Earth but they still exist somewhere in the halo of television and radio signals which is expanding into space. From The Furthest Signals is a speculation about the content of these remote signals, a tuning in to decayed transmissions and imagined broadcasts (that word—"broadcast"—being examined here in its widest possible sense). Some of the entries nod to fictional analogues: The Séance/Search For The Muspel Light by Circle/Temple is a reference to A Voyage to Arcturus, David Lindsay's unique and remarkable science-fiction novel. Other entries like Brass Rubbings Club (Opening Titles) by David Colohan are suggestions for imaginary theme tunes. This is an excellent collection, one of the best to date from A Year In The Country with pieces ranging from the folk-oriented balladry of Sproatly Smith to the deteriorating electronics of Grey Frequency. The album ends with a number by Listening Center, Only The Credits Remain, whose weightless harmonies wouldn't be out of place on Apollo by Brian Eno & Daniel Lanois.
From The Furthest Signals is out now in the familiar range of hand-crafted monochrome formats.
Previously on { feuilleton }
• The Restless Field
• The Marks Upon The Land
• The Forest / The Wald
• The Quietened Bunker
• Fractures