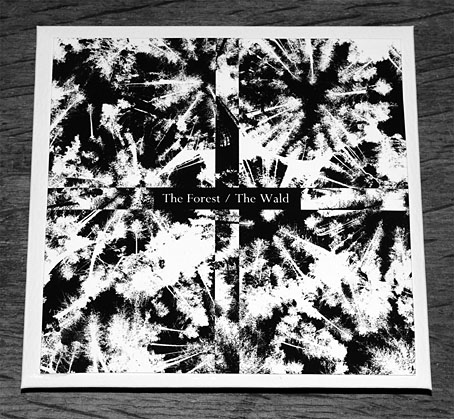 November brings another compilation from the masters of monochromatic packaging, A Year In The Country. The Forest / The Wald takes woods and their folklore as its theme, so the autumn months would seem an ideal time for such a release. Trees make their presence most apparent during the leaf-shedding months of October and November, and one of the pieces on this new collection, The Hand of Auctumnus by Richard Moult, refers directly to the season.
The album takes as one of its initial reference points Electric Eden author Rob Young's observations of the roots of the word folk as being "…the music of the 'Volk', a word born of the Teutonic Wald, the wild wood where society was organised ad hoc, bottom-up and frequently savage…"; places where rituals endured and perplexed their heirs.

In amongst The Forest / The Wald can be found expressions of greenwood rituals performed in the modern-day, echoes of fantastical childhood rhymes, sylvan siren calls that tremble through tangles of branches, electronics pressed into the summoning of otherworldly arboreal creations unearthed amidst the creeping thickets and elegies to woodland intrusions, solitudes and seasons.

Track list:
1) The Abney Ritual – Bare Bones
2) Hawthorn Heart – Magpahi
3) Deep Undergrowth – Polypores
4) Fantastic Mass – Time Attendant
5) Waldeinsamkeit – David Colohan
6) The Hand Of Auctumnus – Richard Moult
7) Tomo's Tale – Sproatly Smith
8) A Whisper In The Woods – The Hare And The Moon ft Alaska
9) Ocarina Procession – The Rowan Amber Mill
10) Trees Grew All Around Her – The Séance with Lutine
11) Equinox – Cosmic Neighbourhood
12) Where Once We Wandered Free – A Year In The Country
Not everything here is folk-oriented, some of the contributions, such as those by Polypores and Time Attendant, are electronic pieces. David Colohan, Sproatly Smith, The Rowan Amber Mill, Richard Moult and others follow more familiar paths through the trees. Compared to Fractures and The Quietened Bunker, two of the earlier releases in this series, The Forest / The Wald is much closer to the territory mapped out by Xenis Emputae Travelling Band (or their present incarnation, Hawthonn), a response to British folk traditions that acknowledges the history without seeming beholden to it.
The Forest / The Wald will be released on 14th November.
Previously on { feuilleton }
• The Quietened Bunker
• Fractures