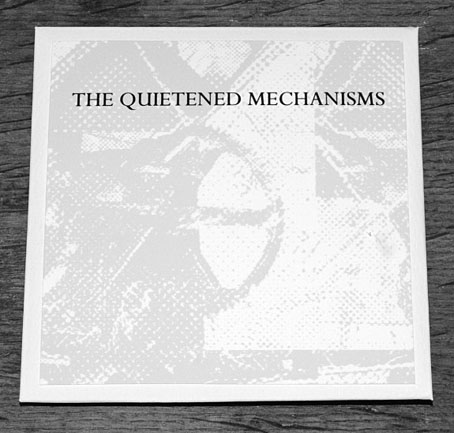 The latest themed collection from A Year In The Country is a surprise for being a dramatic departure from the previous installment, the very musical Shildam House Tapes. The Quietened Mechanisms follows similar the label's other Quietened releases—Bunker, Cosmologists and Village—in seeking to represent in sound or music a sense of absence or ending. The theme of the new collection is the end of Britain's industrial revolution, a period of social and geological turmoil whose ruins still litter the landscape, especially in the Midlands and North of England. Consequently, the entries this time are sparse to the point of abstraction, tending to the soundscape end of the musical spectrum.
The album is an exploration of abandoned and derelict industry, infrastructure, technology and equipment that once upon a time helped to create, connect and sustain society.

It wanders amongst deserted factories, discarded machinery, closed mines, mills and kilns and their echoes and remains; taking a moment or two to reflect on these once busy, functioning centres of activity and the sometimes sheer scale or amount of effort and human endeavour that was required to create and operate such structures and machines, many of which are now just left to fade away.

Track list:
1) The Heartwood Institute—Birkby and Allbright Mine
2) Quaker's Stang—The Hoffman Kiln
3) Depatterning—Of Looms in the Housen
4) Embertides—Ash, Oak & Sulphur
5) Dom Cooper—Metallurgy
6) Field Lines Cartographer—The Mill in the Forest
7) Grey Frequency—Nottingham Canal
8) Howlround—A Closed Circuit
9) The Soulless Party—Rattler to the Tower
10) Keith Seatman—Rural Flight
11) Listening Center—Clarion of the Collapsed Complex
12) Spaceship—The Stones Speak of Short Lives
13) Sproatly Smith—Canary Babies
14) Pulselovers—Fuggles
15) Time Attendant—Hidden Parameters
16) Vic Mars—Watchtower and Engine
17) A Year In The Country—The Structure/Respite
This is post-industrial music in the multiple senses of the term although Dom Cooper's Metallurgy harks back to the Industrial metal-bashing sub-genre of the 1980s. The pieces that seek to conjure pictures of abandoned places do so in ways that aren't always so obvious: The Mill In The Forest by Field Lines Cartographer is closer to Gil Mellé's Andromeda Strain soundtrack than Shirley Collins. Not all the contributions have immediately obvious titles so the accompanying notes are essential: Sproatly Smith's solemn Canary Babies is a memorial to the women who worked in the Rother Ordnance Factory making bombs and shells, and whose skins were turned yellow by the chemicals they used. This isn't industrial nostalgia, in other words, but an often poignant commemoration. Another impressive installment in this ongoing series. The Quietened Mechanisms will be released on 2nd October 2018, and is available for order here.
Previously on { feuilleton }
• The Shildam Hall Tapes
• Audio Albion
• A Year In The Country: the book
• All The Merry Year Round
• The Quietened Cosmologists
• Undercurrents
• From The Furthest Signals
• The Restless Field
• The Marks Upon The Land
• The Forest / The Wald
• The Quietened Bunker
• Fractures