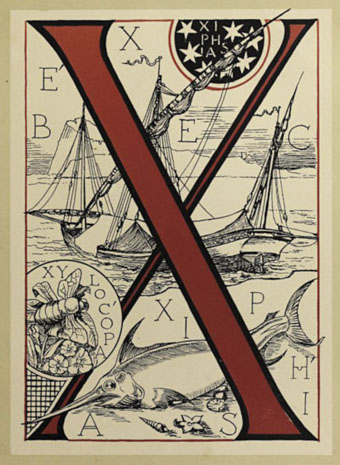 X from Theodore Howard's ABC (1880) by Theodore Howard.
• "[Parade] has everything: joy and sadness, get-down and wistfulness, mourning and melancholia, group funk and Debussy interludes, echoes of Ellington, Joni, film music, chanson. It's a perfectly realised whole." Ian Penman on the enigmas and pleasures of Prince.
• "Mescaline reads like the culmination of a lifetime's wanderings in the very farthest outposts of scientific and medical history." Ian Sansom review's Mike Jay's history of the psychedelic alkaloid.
• The Day the Music Burned by Jody Rosen: "It was the biggest disaster in the history of the music business—and almost nobody knew. This is the story of the 2008 Universal fire."
This willing constriction of intellectual freedom will do lasting damage. It corrupts the ability to think clearly, and it undermines both culture and progress. Good art doesn't come from wokeness, and social problems starved of debate can't find real solutions. "Nothing is gained by teaching a parrot a new word," Orwell wrote in 1946. "What is needed is the right to print what one believes to be true, without having to fear bullying or blackmail from any side." Not much has changed since the 1940s. The will to power still passes through hatred on the right and virtue on the left.

George Packer on what George Orwell's Nineteen Eighty-Four means today
• Having spent the past week watching Jacques Rivette's 775-minute Out 1, this interview with Rivette from 1974 was of particular interest.
• At Dangerous Minds: Donald Sutherland as "a sperm-filled waxwork with the eyes of a masturbator" in Fellini's Casanova.
• The Adventures of the Son of Exploding Sausage (1969): the Bonzo Dog Band getting it untogether in the country.
• Dark, velvety dark: Nabokov's discarded ending to Camera Obscura, introduced by Olga Voronina.
• "Spotify pursues emotional surveillance for global profit", says Liz Pelly.
• Mix of the week: Then Space Began To Toll by The Ephemeral Man.
• An interview with master of horror manga Junji Ito.
• Announcing the Arthur Machen Essay Prizes.
• RIP film-maker and author Peter Whitehead.
• X Offender (1976) by Blondie | X-Factor (1981) by Patrick Cowley | X-Flies (1997) by Mouse On Mars