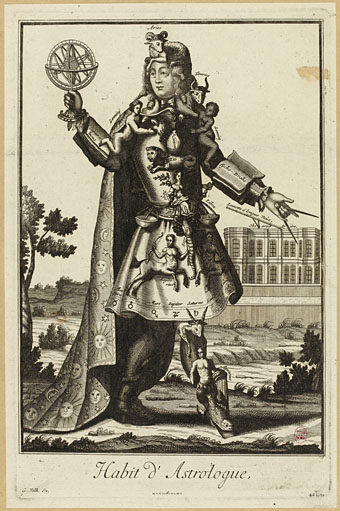 Habit d'Astrologue (c. 1700) by Gerard Valck.
• "The Appointed Cloud begins with the high-pitched, keening sound of many bagpipes noisily playing at once—and then the music slowly coalesces, approaching a peaceful, tranquil hum. This gives way to fast-paced repetitive pulses, reminiscent of the minimalist works of composers such as Terry Riley and Philip Glass. Then the bagpipes join in once more, in a ferocious swarm of energy." Geeta Dayal on the music of Yoshi Wada.
• "How can we conceive of the time of climate change, the time of planetary death? The House on the Borderland tried to conceive of exactly this a century ago. Yes, the narrator's acts are fruitless. He gets haplessly carted about the universe to witness the end of time, which never really ends, is always at the edge, nearing an asymptote, on the borderland." Namwali Serpell journeys through space and time with William Hope Hodgson.
• The Bureau of Lost Culture: DJ Food hosts a podcast discussion with Tony Bennett, founder and publisher of Knockabout Comics.
• Mixes of the week: Isolated Mix 111 (plus interview) by Ian Boddy, and a Wire mix (plus interview) by Teresa Winter.
• Fantastic visions and unknown worlds: Edwin Pouncey on Van Der Graaf Generator's sleeve art.
• At Spoon & Tamago: Sculptor Kenichi Nakaya reconfigures ubiquitous Japanese rural crafts.
• My Bloody Valentine's Kevin Shields: "We wanted to sound like a band killing their songs."
• At Wormwoodiana: More earth mysteries are explored in Northern Earth magazine.
• New music: Black Horses Of The Sun by Dave Bessell.
• The Exotica Project: One Hundred Dreamland 45s
• At Dennis Cooper's: Hans Richter Day.
• Mdou Moctar's favourite music.
• Earth Floor (1985) by Michael Brook | Earth Tribe (1993) by Transglobal Underground | Earth Lights (2012) by Belbury Poly