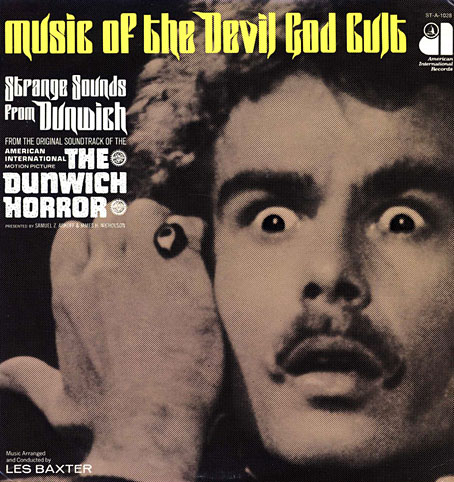 Dig the eldritch letterforms, man. Dean Stockwell as Wilbur Whateley making the High Sign on the cover of Les Baxter's soundtrack album, 1970. That gesture, incidentally, goes back a long way.
• If you have an abundance of interstellar credits burning a hole in your stillsuit then you may be interested in bidding for the original of the book commonly known as The Dune Bible, the complete set of storyboards by Jean "Moebius" Giraud, together with designs by other artists for Alejandro Jodorowsky's abandoned feature film. I keep hoping someone might turn this into an animated feature, something like René Laloux's Time Masters but on a grander scale and with better animation (hello, Japan). 46 pages of scans from a limited printing of the book may be seen here.
• RIP Dean Stockwell. His 1995 interview in Psychotronic Video magazine is much better value than any potted biography.
• Bed-hopping, martinis and self-loathing: Emma Brockes on Patricia Highsmith's unpublished diaries.
• At Spoon & Tamago: Tracing the footsteps of travelling Ukiyoe artist Kawase Hasui.
• Culture.pl examines the theoretical revolution of Nicolaus Copernicus.
• Killian Fox on the cover designs for Penguin's Modern Classics.
• Nick Mamatas on his favourite genre-breaking mysteries.
• New music: HYbr:ID oval p-dance by Alva Noto.
• Mix of the week: Isolatedmix 114 by R.A.D.E.
• Justin Robertson's favourite music.
• At Dennis Cooper's: Clock.
• Jay Babcock at Substack.
• The Clock (1968) by Ruth White | Clock Factory (1993) by The Sabres Of Paradise | Internal Clock (2009) by Monolake