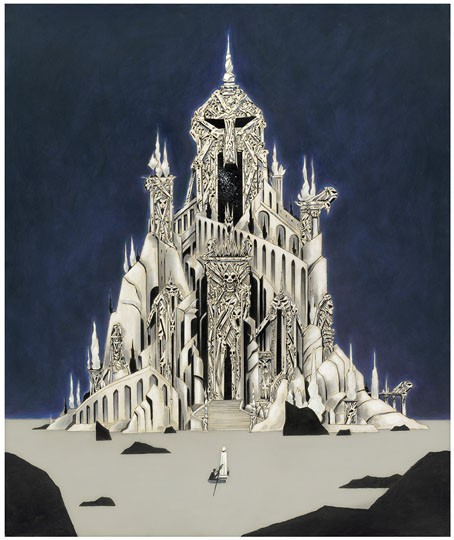 In Philippe's studio there was always against a wall this large canvas sketched in the 80s on the theme of the Isle of the Dead. During a work session on the print, I asked him if he intended to finish it one day. He answered me: "NO", then "we will finish it together."
Thus François Avril writing about his collaboration with Philippe Druillet on yet another version of The Isle of the Dead, the endlessly malleable Symbolist emblem created in the 1880s by Arnold Böcklin. Druillet had already drawn an impressive version of the cemetery island for Gail, one of the later Lone Sloane stories, in 1976. These new versions are from an exhibition of prints staged last year at Galerie Barbier in Paris.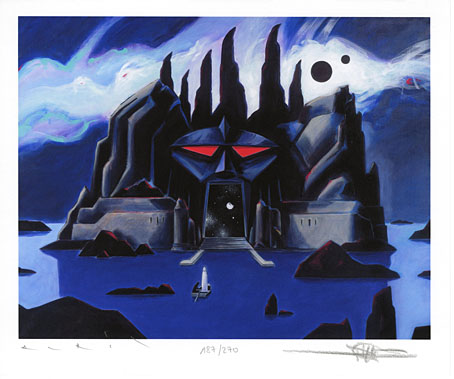 Copies of the prints are still for sale, as is a pricey (€ 100) signed and limited exhibition catalogue. More tempting, although even more expensive, is a forthcoming catalogue from another Druillet exhibition, Les 6 Voyages de Philippe Druillet which explored the artist's "oeuvre colossale".
All of this reminds me that when I was writing about René Laloux's films for the previous post I was thinking once again that it was a shame Laloux never produced anything based on Druillet's art. There is an animated series, Bleu, L'enfant de la Terre, which Druillet designed for French TV in the 1980s, but this was aimed at children so there's none of the cosmic doom that dominates Druillet's early books. My ideal today would be a Lone Sloane feature animated by one of those Japanese studios with a fanatic attention to detail. I can dream, can't I?
Previously on { feuilleton }
• More Isles of the Dead
• Isles of the Dead
• Du Tac au Tac: Druillet, Hogarth and Buscema
• Sorcerer: Druillet and Friedkin
• Ô Sidarta: a film about Philippe Druillet
• Lovecraft: Démons et Merveilles
• Philippe Druillet album covers
• A Picture to Dream Over: The Isle of the Dead
• The Isle of the Dead in detail
• Druillet's vampires
• Druillet meets Hodgson
• Arnold Böcklin and The Isle of the Dead