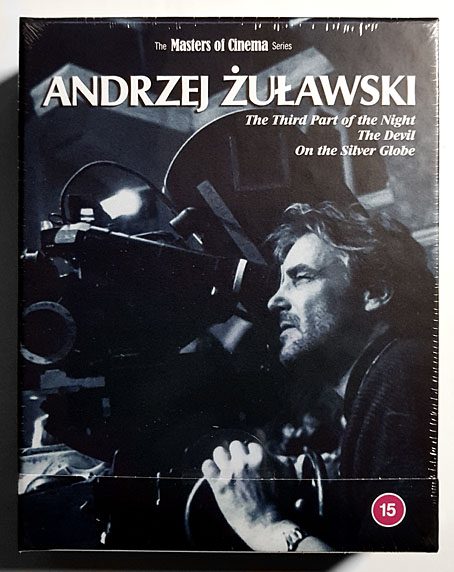 In today's post…finally. I ordered this at the end of February but production problems delayed the May release so it's taken this long to make its way into the world. It's worth the wait, of course, these films have been difficult to see for years, although the recent resurrection of On the Silver Globe has given the film a revitalised existence in bootleg circles. Zulawski's unfinished science-fiction epic is the main attraction here—most of the substantial extras are devoted to it—but I'm looking forward to seeing The Devil again after only having watched it as a low-grade digital copy.
An uncompromising visionary and a true maverick of European cinema, the Masters of Cinema Series is proud to present three films by Andrzej Zulawski, all making their UK debuts on Blu-ray from definitive restorations.

Rich with multilayered symbolism and apocalyptic imagery, The Third Part of the Night is Zulawski's highly influential debut feature film. After his whole family is slaughtered during the Nazi-occupation of Poland, Michal (Leszek Teleszynski) decides to join the resistance but descends into madness after encountering a doppelgänger of his murdered wife.

The Devil is a violent tale of Satanic seduction during the Prussian invasion of Poland in the 17th century, which proved so controversial upon release that it was banned for 16 years.

And finally, On the Silver Globe, Zulawski's masterpiece about a team of astronauts who land on a desolate planet and start a new society. When filming was 80% complete, the Polish government ordered the production to be shut down and all the negatives be destroyed. Miraculously, the original film reels were preserved and ten years later the film was presented at the Cannes Film Festival to great acclaim.
If any of this sounds interesting then I also recommend Zulawski's fourth feature, Possession. The less said about that one, the better. It's a wild ride.