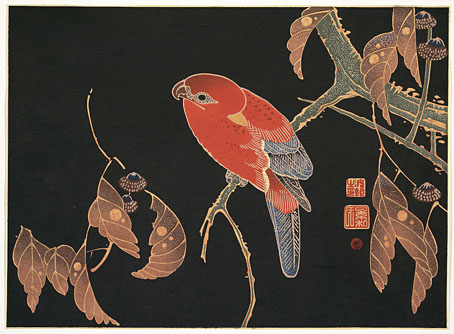 Red Parrot on the Branch of a Tree (c.1771) by Ito Jakuchu.
• Reporter John Stapleton (later a fixture of BBC TV) visits the Portobello Road offices of British underground newspaper Frendz for newsreel service British Pathé. The date says 1969 but it's probably 1971 since earlier that year the magazine had changed its name from Friends. Among the unidentified interviewees is Rosie Boycott, later the founder of Britain's first feminist magazine, Spare Rib, and now Baroness Boycott. She may have predicted the former in 1971 but I doubt she would have expected a seat in the House of Lords.
• At Expanding Mind: Erik Davis talks with martial artist and psilocybin explorer Kilindi Iyi about African martial arts, high dose psilocybin work, African-American psychedelia, Dr. Strange, and the metaphysics of darkness.
• Bloom, the generative music app by Brian Eno and Peter Chilvers, is given a tenth-anniversary relaunch this month. The new app will also (finally) be available for Android as well as Apple machines.
Early on, I realized my interest in [William] Burroughs' work was less to do with the cut-up novels and more with the documented research and investigation of the human condition, technology, control, travel, dreams, drug culture, shamanism, and Hassan-I Sabbah. Books like The Job, The Electronic Revolution and especially, The Third Mind with Brion Gysin were particularly important to me. […] As for integrating Burroughs' work into the music, it's not about the history of a literary collaboration, but rather the complete fusion in a praxis of two subjectivities that metamorphosize into a third. From this collusion, a new author emerges—an absent third person, invisible and beyond reach, recording the silence.

From 2017: Bill Laswell in a satisfyingly lengthy interview with Anil Prasad
• Secret Satan, 2018: being the annual Strange Flowers "round-up of giftable cultural history with which you can unmistakably signal your degenerate cosmopolitan values".
• Laurie Spiegel's second album of electronic music, Unseen Worlds, was never given a proper release in 1990. This situation will be rectified in January.
• Mixes of the week: Secret Thirteen Mix 272 by Paulie Jan, and XLR8R Influences Podcast 12 by Ripperton.
• More Gorey: biographer Mark Dery and design historian Steven Heller discuss Edward Gorey's life and work.
• Rumsey Taylor on Roger Excoffon's Choc, "the mystery font that took over New York".
• More Nicolas Roeg: David Thompson on one of Britain's greatest film directors.
• John Waters picks his films of the year.
• RIP Bernardo Bertolucci
• In Bloom (1991) by Nirvana | Bloom (2001) by Brian Eno & J. Peter Schwalm | Violet Bloom (2010) by John Foxx