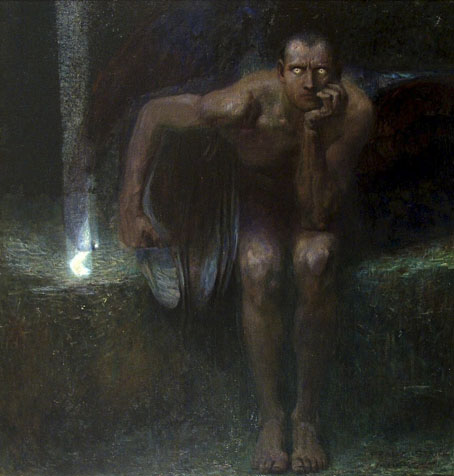 Lucifer (1890) by Franz Stuck.
• "I wanted to reclaim the word 'psychonauts' and take it back into the 19th century, where it describes not only renegades and rebels, but also establishment scientists, doctors, and pillars of the literary establishment. The word that was used at the time was "self-experimenter." Mike Jay (again) talking to Steve Paulson about psychoactive research and the scientists who taste their own medicine.
• "How did countercultures commune before the internet?" asks J. Hoberman, reviewing Heads Together: Weed and the Underground Press Syndicate, 1965–1973 by David Jacob Kramer.
• At Public Domain Review: Medieval advice concerning the mythical Bonnacon: "the protection which its forehead denies this monster is furnished by its bowels".
• DJ Food unearths posters and badges for The Kaleidoscope, a short-lived Los Angeles music venue of the late 60s.
• At Spoon & Tamago: Gaku Yamazaki has documented thousands of unusual road signs across Japan.
• New music: Psalm013: Unland by Pram of Dogs, and Intimaa by Bana Haffar.
• At Unquiet Things: A sneak peek from the forthcoming The Art of Fantasy.
• The Strange World of…Shirley Collins.
• At Dennis Cooper's: Bruce Posner Day.
• Kenneth Anger: a life in pictures.
• RIP Tina Turner.
• Kaleidoscope (1967) by Kaleidoscope (UK) | Kaleidoscope (1984) by Rain Parade | Collideascope (1987) by The Dukes Of Stratosphear