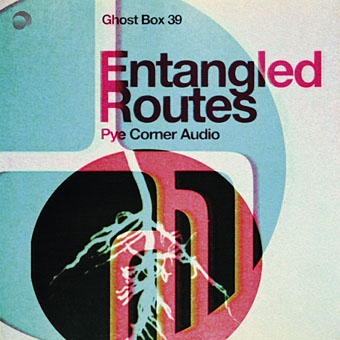 Ghost Box 39. Design, as always, is by Julian House.
• Entangled Routes by Pye Corner Audio will be the next album on the Ghost Box label, due for release on 26th November. This will be Pye Corner Audio's fourth album for Ghost Box, and one which forms the final part of a trilogy of imaginary soundtracks for science-fiction scenarios, "the latest installment of which plays with the idea of mycorrhizal networks and attempts by humans to listen in and communicate".
• "…for every ten projects I start, nine will probably fall by the way side—they just don't get made. Nothing happens, you can't find the tapes, you can't find the rights holders, the tapes were destroyed, no one's interested." Jonny Trunk interviewed at Aquarium Drunkard.
• At Unquiet Things: S. Elizabeth is celebrating the first anniversary of The Art Of The Occult (previously) by giving away a signed copy of her book to one of the commenters on this post.
• "Sand is not only temporary, it is also the most temporised form of matter." Steven Connor on the dust that measures all our time.
• Mixes of the week: Autumn Hymnal: A Mixtape by Aquarium Drunkard, and In Estonia with Bart de Paepe by David Colohan.
• "Touched by the hand of Ithell: my fascination with a forgotten surrealist." Stewart Lee on Ithell Colquhoun.
• Skin trade: a playlist of percussion at the outer limits; Valentina Magaletti surveys alternatives to the conventional kit.
• At Wormwoodiana: Mark Valentine reviews The Devil At Saxon Wall by Gladys Mitchell.
• "The Show: Alan Moore brings vaudevillian dazzle to Northampton noir," says Phil Hoad.
• At Bandcamp: A Guide to the Eclectic Funk Music of Bernie Worrell by John Morrison.
• At Dennis Cooper's: Spotlight on…Octave Mirbeau The Torture Garden (1899).
• At Spine: Vera Drmanovski on redesigning the novels of Hermann Hesse.
• New music: Music For Psychedelic Therapy by Jon Hopkins.
• South To The Dust (1990) by Ginger Baker | Into Dust (1993) by Mazzy Star | Photon Dust (2020) by Pye Corner Audio