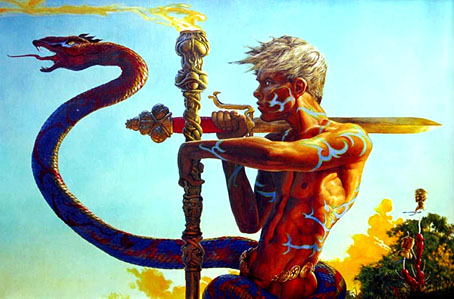 Untitled painting by Oliver Frey based on The Wild Boys by William Burroughs.
• RIP Oliver Frey, a prolific illustrator and comic artist whose art for UK computer magazines in the 1980s made a lasting impression on a generation of games players, hence this obituary at Eurogamer. On this site, however, Frey is also remembered for his artistic alter-ego "Zack" (previously), an equally prolific creator of comic-strip erotica for Britain's few gay-porn mags at a time when any such material being sold in the UK ran the risk of police seizure or even a court appearance. For a while, Zack's Rogue and Tom of Finland's Kake were rare examples of assertive, unashamedly lustful gay characters with strips of their own, which makes Oliver Frey something of a pioneer, and a daring one at that.
• "The title characters were a trio of boys named Jupiter Jones, Pete Crenshaw, and Bob Andrews, who live in the fictional California town of Rocky Beach, not far from Hollywood, on the coast…" Colin Fleming on the satisfyingly spooky adventures of Robert Arthur Jr's Three Investigators. I was never as obsessive as Fleming was but I read all of the books about the trio that I could find in our local library.
• "Though its inimitable visual style has safeguarded it as a quintessential cult film most at home behind a shroud of pot smoke, the influence of Koyaanisqatsi has been sweeping." Josef Steen on 40 years of Godfrey Reggio's Koyaanisqatsi.
• "Putting it simply, coincidences and curiosities and chance encounters happen when people go looking for zodiacs." Mark Valentine on Britain's terrestrial zodiacs.
• At Literary Hub: Marguerite Duras on writing the screenplay for Alain Resnais's Hiroshima Mon Amour.
• New/old music: a reissue of Solar Maximum by Majeure.
• New music: Kerber Remixes by Yann Tiersen.
• At Dennis Cooper's: Ingrid Caven Day.
• Threnody To The Victims Of Hiroshima (1959-61) by Krzysztof Penderecki | Memory Of Hiroshima (1973) by Stomu Yamash'ta | Hiroshima Mon Amour (1977) by Ultravox!