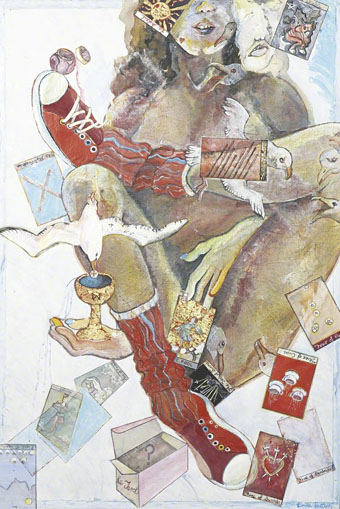 Reading the Tarot at Southend-on-Sea (c.1968) by Linda Sutton.
• "Starship Africa, released in 1980, was a densely textured audio collage emulating the sensation of intergalactic space travel, though it freaked out some in the scene. According to [Adrian] Sherwood, DJ David Rodigan told him: 'What do you think you're doing to reggae music?'" David Katz on the return of Creation Rebel.
• Coming soon from Strange Attractor: Subcontinental Synthesis, a history of India's first electronic music studio, edited by Emptyset's Paul Purgas. There's also a related compilation album, The NID Tapes: Electronic Music from India 1969–1972.
• New music: The Lamentations Of Jeremiah by Vince Clarke, and Tidescape by Roger Eno.
But even when it's a signal, even when it's a microbe, we'll likely never know if it's aliens. Not just because of the vast distances involved or because of the wild possibilities presented by chemistry and biology, but because science seldom works that way. Discoveries almost never arrive as we think they will, as lightning bolt eurekas. They are slow, gradual, communal. Alien life may not be something we ever 'find', but instead inch towards, ever closer, like a curve approaching its asymptote. For all our desire to know who's out there, that may have to be enough.

Jaime Green on the scientific method and the search for extraterrestrial life
• At Public Domain Review: Charles H. Bennett's Shadows (ca. 1856).
• Steven Heller's font of the month is JAF Herb.
• Make a Spawn of Cthulhu mask.
• Theon Cross's favourite music.
• Herb (1980) by Sly And The Revolutionaries With Jah Thomas | Pause In Herbs (1995) by Ken Ishii | Herb Is Burnin' (2010) by Method Of Defiance