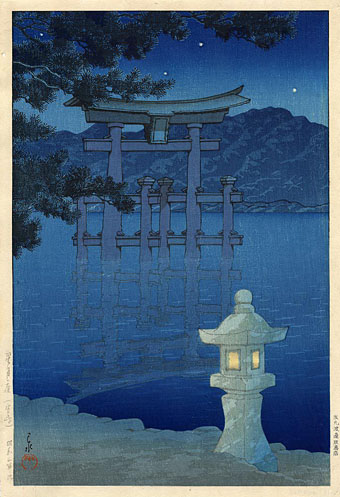 Beautiful night – moon and stars, Miyajima Shrine (1928) by Hasui Kawase.
• One announcement I'd been hoping for since last summer was the news of a second box of Tangerine Dream albums to follow the excellent In Search Of Hades collection. The latter concentrated on the first phase of the group's Virgin recordings, up to and including Force Majeure. This October will see the release of a new set, Pilots Of Purple Twilight, which explores the rest of the Virgin period when Johannes Schmoelling had joined Froese and Franke. Among the exclusive material will be a proper release of the soundtrack for Michael Mann's The Keep (previously a scarce limited edition), together with the complete concert from the Dominion Theatre, London. Also out in October, Dark Entries will be releasing a further collection of recordings from the recently discovered tape archive of Patrick Cowley. The new album, Some Funkettes, will comprise unreleased cover versions, one of which, I Feel Love by Donna Summer, is a cult item of mine that Cowley later refashioned into a celebrated megamix.
• "Did you know that Video Killed The Radio Star was inspired by a JG Ballard story?" asks Molly Odintz. No, I didn't.
• Casey Rae on the strange (musical) world of William S. Burroughs. Previously: Seven Souls Resouled.
• "And now we are no longer slaves": Scott McCulloch on Pierre Guyotat's Eden Eden Eden at fifty.
• At Dennis Cooper's: Frank Jaffe presents…Dario Argento and his world of bright coloured blood.
• At Wormwoodiana: The Serpent Calls. Mark Valentine on a mysterious musical instrument.
• At Spoon & Tamago: Long-Exposure Photographs of Torii Shrine Gates by Ronny Behnert.
• Mix of the week: mr.K's Soundstripe vol 4 by radioShirley & mr.K.
• Rising sons: the radical photography of postwar Japan.
• The illicit 1980s nudes of Christopher Makos.
• RIP Diana Rigg.
• Garden Of Eden (1971) by New Riders Of The Purple Sage | Ice Floes In Eden (1986) by Harold Budd | Eden (1988) by Talk Talk