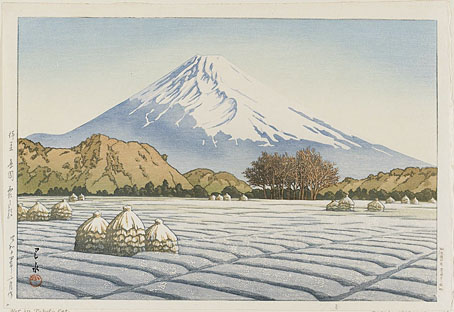 Frosty Morning in Nagaoka, Izu (1939) by Hasui Kawase.
• "A few years ago, retired professor of religious studies Chris Bache wrote a book called LSD and the Mind of the Universe. His book is the story of 73 high-dose LSD experiences he had over a period of 20 years, from 1979 to 1999, and how they changed his understanding of the very nature of reality. Bache believes psychedelics represent a 'true revolution in Western thought,' and his life has been lived around that premise. But after his long psychedelic journey, Chris ends up in a really interesting place. He wonders, 'Can you have too much transcendence?'" Steve Paulson talks to Chris Bache about mega-dosing LSD.
• "Operating in the margins and intersections of folklore, experimental electronics, dreams and nightmares…" Or Hauntology, German-style. Louis Pattison at Bandcamp looks at some of the artists featured on Gespensterland, a compilation album released by Bureau B. The latest news reports about Bandcamp haven't been encouraging. Download those digital purchases.
• "Cassel favored botanically inspired lines, distilled geometries, and a crepuscular-or-witching hour palette to capture the strange wind and cold light of a particular metaphysical space." Johanna Fateman reviews Anna Cassel: The Saga of the Rose, a book about the occult artist edited by Kurt Almqvist and Daniel Birnbaum.
• At Dennis Cooper's: 10 filmmakers, 20 short films, 2 each: Joyce Wieland, Vivienne Dick, Eileen Maxson, Sue de Beer, Amy Greenfield, Chiaki Watanabe, Coleen Fitzgibbon, Germaine Dulac, Lori Felker, Barbara Hammer.
• Rambalac took his roaming camera to the slopes of Mount Fuji. More drone shots, please.
• New music: A Field Guide To Phantasmic Birds by Kate Carr, and Inland Delta by Biosphere.
• Winners and finalists for the 2023 Ocean Photographer of the Year.
• At Wyrd Daze: the latest Disco Rd zine and related podcast.
• Transcendental Express (1975) by Can | Transcendence (1977) by Alice Coltrane | Transcendental Moonshine (1991) by Steroid Maximus