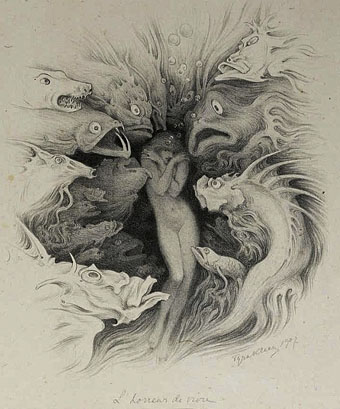 The Horror of Living (1907) by Tyra Kleen. Via
• "Voss suggests Af Klint was a pioneer of abstract painting, a label that fits in some ways – her work certainly isn't representational in the normal sense – but jars in others. She saw her work as a spiritual calling, supercharged with meaning in ways most of her contemporaries struggled to grasp. Most, but not all. Af Klint socialised and collaborated with other visionary women. Some were artists, others were writers, but all were adherents of the new philosophies sweeping Europe in the late 19th century: spiritualism, Rosicrucianism, theosophy." Madoc Cairns reviewing Hilma af Klint: A Biography by Julia Voss.
• "I want to insist on an amateur internet; a garage internet; a public library internet; a kitchen table internet. At last, in 2023, I want to tell the tech CEOs and venture capitalists: pipe down. Buzz off. Go fave each other's tweets." Robin Sloan looking for new avenues away from the corporate cul-de-sacs of social media.
• "Even when subjects take psychedelics in clinical environments devoid of nature…many of them still emerge with stronger relationships to the natural world." Simran Sethi on the connections between psychedelic use and eco-activism.
• At A Year In The Country: A Shindig! Selection: From Celluloid Hinterlands to Children of the Stones via The Delaware Road and a Sidestep to the Parallel World of él Records.
• At Public Domain Review: Mighty Mikko: A Book of Finnish Fairy Tales and Folk Tales (1922) by Parker Hoysted Fillmore.
• "When coffee is all gone. It's over." Spoon & Tamago gets existential at Tokyo's Museum of Wonky English.
• The "S" Word: Spirtuality in Alternative Music is a book-length study by Matthew Ingram (aka Woebot).
• New music: Does Spring Hide Its Joy by Kali Malone (featuring Stephen O'Malley & Lucy Railton).
• Steven Heller's font of the month is Geetype.
• Spiritual Awakening (1973) by Eddie Henderson | Spiritual Blessing (1974) by Pharoah Sanders | Spiritual Eternal (1976) by Alice Coltrane