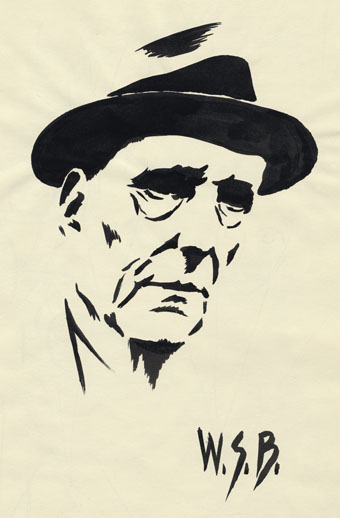 Something from 1994 I found in an old sketchbook. Ink on paper with no preliminary drawing.
Happy birthday, Bill. To celebrate the Burroughs centenary I could have put together several very different mixes of Burroughs-related music—there's been a lot of it, and he was blessed with some excellent collaborators—but in the end decided on a version of something I've been messing with on and off for about twenty years.
Seven Souls Resouled by Feuilleton on Mixcloud
Bill Laswell's associations with William Burroughs go back to Laurie Anderson's Mister Heartbreak (1984) album which Laswell played bass on and co-produced. Burroughs had a guest spot on the last track, Sharkey's Night, and that session may have led to the 1989 album by Laswell's Material project, Seven Souls, a seven-track album based around Burroughs's readings of passages from The Western Lands. This has always been my favourite of all the albums which set Burroughs texts to music, not least because Laswell has always surrounded himself with exceptional musicians. I liked this album so much I used to try padding it out on cassette tape with other Laswell productions, many of which feature the same musicians, and even similar riffs and instrument sounds. I could never settle on a definitive mix, however, and even the one presented here doesn't feel absolutely right although it works far better than all previous versions. Matters aren't helped by there being much extraneous material (so to speak): Seven Souls was reissued in 1997 with remix tracks, and there's also a related EP, The Road To The Western Lands, with further remixes. Then there are the many tracks which match the Seven Souls sound, not least on the 1994 Material album, Hallucination Engine, which also features a Burroughs reading. Laswell's solo albums, and much of his Axiom label, is infected by Burroughs-like titles; for a while Axiom even promoted its world- and genre-spanning ethos with the slogan "Nothing is true; everything is permitted". The Beatles may have put Burroughs's face on the cover of the Sgt Pepper album but Bill Laswell has done far more to spread the virus of the man's work. Below there's a guide to the tracks followed by another visit to the Wild Boys.
William S. Burroughs – Word Falling, Photo Falling (1960s)
One of the numerous tape recordings from the 1960s which are like audio equivalents of the books Burroughs was writing at the time. This one is from Nothing Here Now But The Recordings (1981).
Material – Ineffect (1989)
The first track from Seven Souls.
Ginger Baker – Dust to Dust (1986)
Bill Laswell produced two Ginger Baker solo albums, Horses and Trees (1986), from which this track is taken, and Middle Passage (1990). Both feature Laswell's core group of Material musicians including Nicky Skopelitis, Bernie Worrell and Aiyb Dieng. Baker was a member of a later incarnation of Material, and appears on the Live In Japan (1993) album.
Material – Seven Souls (1989)
The second track from Seven Souls.
Material – Ruins (Submutation Dub by Bill Laswell) (1994)
From Material's other masterwork, the mighty Hallucination Engine.
Material – Soul Killer (1989)
The third track from Seven Souls.
Ginger Baker – Under Black Skies (1990)
From Baker's Middle Passage album.
Material – The Western Lands (1989)
The fourth track from Seven Souls.
Mandingo – Lanmbasy Dub (Kora in Hell Mix by Bill Laswell) (1993)
A slight deviation from the Seven Souls tracklist. The first four Burroughs tracks were followed by two very different pieces: Deliver, featuring the voice of Gambian musician and kora player Foday Musa Suso, and Equation which combined a rock riff with Rammellzee's vocals. Foday Musa Suso is another floating member of Material who also released an album, New World Power (1990) on Laswell's Axiom label under the name Mandingo. This track is an extended remix of the first track from New World Power.
Bill Laswell (with William S. Burroughs, Techno Animal, Iggy Pop) – The Western Lands (1999)
Hashisheen : The End Of Law is one of many one-off Laswell projects, this one featuring a collection of readings about Hassan i Sabbah set to music. Burroughs appears briefly two years after his death reading what may have been a Seven Souls outtake. Iggy Pop then reads a piece from The Western Lands.
Material feat. Rammellzee & phonosycographDISK – No Guts No Galaxy (1999)
In place of Equation from Seven Souls there's this rap number from Material's Intonarumori album.
Bill Laswell – Flash Of Panic [Pipes Of Pan / Up Above The World / Under Black Skies / Out Of The Ether] (1994)
Part of a track from the Axiom Ambient album which blends some of Laswell's recording of the pan pipes at Jajouka with strings from a Jonas Hellborg album, and Omar Faruk Tekbilek's ney from Under Black Skies.
Material – Soul Killer (Remote Control Mix by Terre Thaemlitz) (1997)
The reissue of Seven Souls featured three remixes of which this has always been my favourite. Terre Thaemlitz subjects Burroughs's voice to some granular distortion then cuts-up his words.
Material – The End of Words (1989)
The seventh and final track from Seven Souls.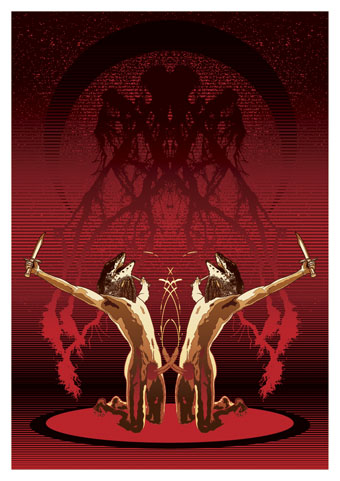 As a bonus, here's a sample of another project that gets played with now and then without ever getting finished. This is one of the more complete pieces from a proposed Wild Boys portfolio that I've mentioned a few times. I'm not sure this one is really finished either but it's more presentable than the rest. I would have had more to show from this series by now if I hadn't been preoccupied with the new novel which has been absorbing most of my free time for the past few years. I'm afraid these days my own work takes precedence over that of anybody else when it comes to extracurricular activity so I can't say yet when the portfolio might be completed. I'd love to put the picture below onto a CafePress T-shirt but it's probably a bit too strong for their regulations.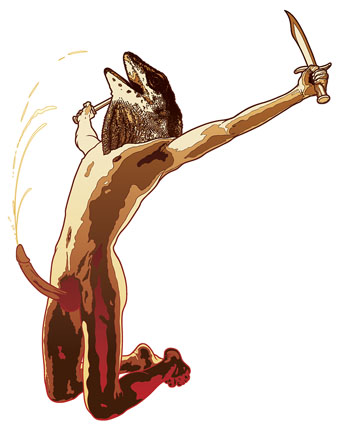 Previously on { feuilleton }
• Nova Express, a film by Andre Perkowski
• Decoder, a film by Jürgen Muschalek
• The Burroughs Century
• Interzone: A William Burroughs Mix
• Sine Fiction
• The Ticket That Exploded: An Ongoing Opera
• Burroughs: The Movie revisited
• Zimbu Xolotl Time
• Ah Pook Is Here
• Jarek Piotrowski's Soft Machine
• Looking for the Wild Boys
• Wroblewski covers Burroughs
• Mugwump jism
• Brion Gysin's walk, 1966
• Burroughs in Paris
• William Burroughs interviews
• Soft machines
• Burroughs: The Movie
• William S Burroughs: A Man Within
• The Final Academy
• William Burroughs book covers
• Towers Open Fire