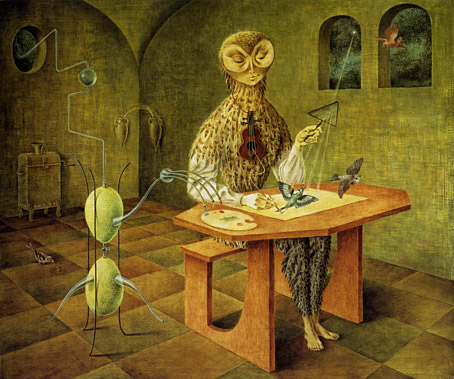 The Creation of the Birds (1957) by Remedios Varo.
• "I think my music is very modern and very old. Together." Sandy Robertson interviewed Popol Vuh's Florian Fricke for Sounds in 1981. The Fricke-directed Sei Still Wisse ICH BIN referred to in the feature may be viewed here. Further Vuh-ing: Popol Vuh on Beat Club, 1971; a news clip of the group from the same year; a filmed improvisation from around the same time (Florian still had his Moog); and the group miming to recorded music from a year or two later.
• More Rammellzee (see last week): Gothic Futurism, a video collage based on Rammellzee's treatise of the same name. Probably the only place you'll ever see Rammellzee, the late Glenn Branca and art historian Kenneth Clark thrown together.
• After releasing 5 albums, Disjointed Oddities And Other Such Things is the first EP of "odd strange electronics, psych, Radiophonics, drone and quirky folk" by Keith Seatman.
• Alina Cohen on Remedios Varo, a Spanish Surrealist painter whose work has been receiving increased attention in recent years but whose life remains under-examined.
• More German music: "I grew up in total ruins"—Irmin Schmidt of Can on LSD, mourning and musical adventures.
• Mixes of the week: FACT mix 655 by Matthewdavid, and The Monday Is Okay mix by JQ.
• Olivia Laing, Sarah Wood and Philip Hoare discuss Modern Nature by Derek Jarman.
• National Geographic has digitized its collection of 6,000+ vintage maps.
• At Bandcamp: The Transcendental Sound of Moroccan Gnawa Music.
• Joe Fletcher on the nightmarish dream logic of Bruno Schulz.
• Levi Stahl on the mind of Donald E. Westlake.
• Affenstunde (1970) by Popol Vuh | Toy Planet (1981) by Irmin Schmidt & Bruno Spoerri | Adithaim (2005) by The Cracow Klezmer Band