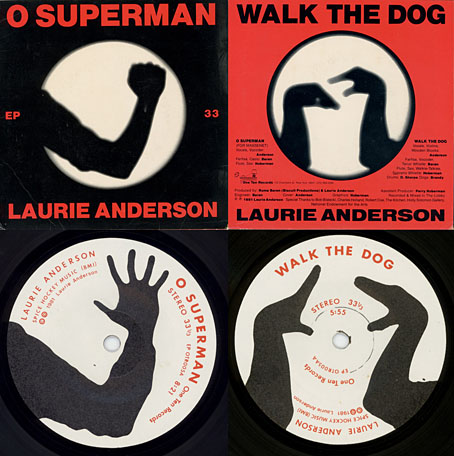 O Superman (1981), a seven-inch single on One Ten Records. Design by Laurie Anderson and Perry Hoberman.
• "…I was painting a picture of a garden at night. It had a lot of black and this green kind of coming out of the black, and I sat back, probably to take a smoke, looking at this painting, and I suddenly heard a wind coming from the painting, and the green started to move. And I thought, 'Oh, a moving painting.' And that experience led to cinema." David Lynch talking to Josh Hitchens about living in Philadelphia.
• "This is the time and this is the record of the time." Big Science, the album that propelled Laurie Anderson from performance artist to pop star, is 40 years old this month. Mat Colegate recalls his confused impression that the album was the work of a West Country folk singer, while Studs Terkel talked to Laurie Anderson about the album shortly after its release.
• At Public Domain Review: Kensy Cooperrider explores a millennium of "hand mnemonics", "the variety of techniques practised by Buddhist monks, Latin linguists, and Renaissance musicians for remembering what might otherwise elude the mind."
• Ghosts in the Machine is an exhibition being hosted by Bower Ashton Library, Bristol, for World Book Night, 2022. 93 participants contributed ghost-related images for an accompanying artist's book [PDF].
• "Sixty years after Seattle's Century 21 Exposition, world's fairs have largely fallen out of fashion in the US." Grant Wong charts the rise and fall of world's fairs.
• A trailer for Ennio: The Maestro, a feature-length documentary about Ennio Morricone by Giuseppe Tornatore.
• "The film Putin doesn't want the world to see: Firebird, a gay love story about fighter pilots."
• At Dennis Cooper's: Andrei Tarkovsky Day.
• New music: Intersections by Specimens.
• Schöne Hände (1977) by Cluster & Eno | Hands 2 Take (1981) by The Flying Lizards | Red Hand (1996) by Paul Schütze