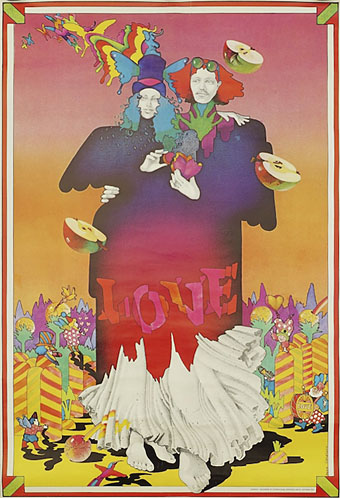 Love (1973), a poster by Nicole Claveloux.
• "Warner Brothers had been keen on a Rolling Stones movie. Jagger was keen on being a movie star. But Donald Cammell's script was no Beatles' jolly japes musical comedy…" Des Barry examines the ninth minute of Cammell & Roeg's Performance.
• "…part of what made his 1970s work so original was the degree to which his band cross-pollinated guitar with synthesizer." Aquarium Drunkard explores the esoteric jazz-rock of Steve Hillage.
• Magma, the cosmic jazz-rock group from France, have been around for 50 years without making a music video. Hakëhn Deïs is their first.
There was half-Tarkovsky embedded in async, "Solari" and "Stakra" and "Walker", a hand outstretched to those great poems of living and light that we call films. "I had a strange dream last night," Andrey Tarkovsky wrote in one of the diary entries collected in Instant Light, "I was looking up at the sky and it was very, very light and soft; and high, high above me it seemed to be slowly boiling, like light that had materialised like the fibres of a sunlit fabric, like silken living stitches in a piece of Japanese embroidery."

David Toop remembers Ryuichi Sakamoto
• "Floor796 is an ever-expanding animation scene showing the life of the 796th floor of the huge space station…"
• The Electrifying Dreamworld of The Green Hand: Dan Clowes on the comic-art of Nicole Claveloux.
• At Bandcamp: Andy Thomas on the post-punk pop subversion of David Cunningham.
• At Unquiet Things: An enigmatic baroness and her collection of skulls.
• New music: River Of Dreams by Romance & Dean Hurley.
• Steven Heller's font of the month is Ray Gun.
• Mix of the week: DreamScenes – April 2023.
• RIP Al Jaffee.
• Skulls Of Broken Hill (1996) by Bill Laswell | The Bees Made Honey In The Lion's Skull (2008) by Earth | Black Skulls (2018) by Jóhann Jóhannsson