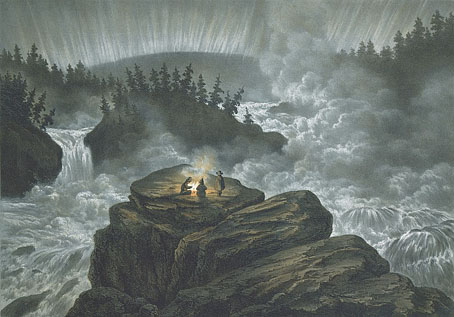 Njommelsaska i Lappland (1856) by Carl Svantje Hallbeck.
• 101 hidden gems: the greatest films you've never seen. Not another clickbait listicle of Hollywood fare that you really have seen, this is 101 films from Sight & Sound's annual poll of critics and directors, each of which only received a single vote. Cinema from the silent era to the present day, "from every continent but Antarctica", all presented on a single page, and with accompanying notes from the voters. I've only seen four of these so it's a list to mine for the future.
• 2024 will see the 100th anniversary of the publication of the first Surrealist manifestos, so the following new books are making their presences known before the celebratory rush. At Colossal: extracts from New Surrealism: The Uncanny in Contemporary Painting by Robert Zeller; at AnotherMag: photos by Coco Capítan of Salvador Dalí's home at Port Lligat.
• "Cocteau was like one of those magicians who, having announced that they are going to reveal the secret of one trick, immediately perform another." Pierre Caizergues introducing extracts from The Secrets of Beauty, a small book of aphorisms by Jean Cocteau, newly translated into English by Juliet Powys.
• More Michael Powell: "Scorsese says The Red Shoes is in his DNA": Thelma Schoonmaker on her life and work with Michael Powell and his friend Marty.
• Dennis Cooper's favourite fiction, poetry, non-fiction, film, art, and internet of 2023. Thanks again for the link here!
• At The Daily Heller: Book covers by Iris Alba (1935–1993), art director, illustrator and graphic designer.
• At Smithsonian Magazine: See the newest underwater sculptures residing on the floor of the Caribbean.
• At Wormwoodiana: Douglas A. Anderson goes looking for the fantasy fiction of Raymond Chandler.
• At Public Domain Review: Paige Hirschey on Anna Atkins' cyanotypes.
• Entries for the Northern Lights Photographer of the Year 2023.
• At Bibliothèque Gay: Der Mann in der Photographie, 1954.
• Aurora (1971) by Tonto's Expanding Head Band | Aurora (2005) by Alva Noto + Ryuichi Sakamoto | Aurora Liminalis (2013) by William Basinski + Richard Chartier