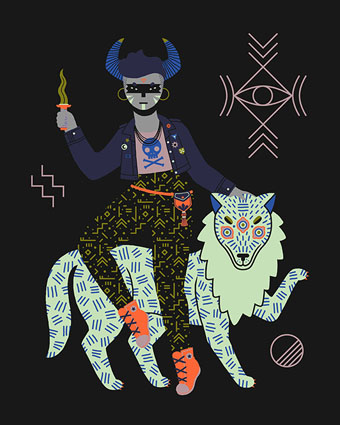 Demon (2014) from the Witch Series by Camille Chew.
• Released next month, Machines Of Desire is the first album of new music by Peter Baumann since Strangers In The Night in 1983. Baumann's first two solo albums, Romance 76 (1976) and Trans Harmonic Nights (1979), are exceptional works of analogue electronica that frequently outmatch his former colleagues in Tangerine Dream. Both albums have been unavailable for over 20 years so it's good to know that Cherry Red are reissuing them at the end of May (see here and here).
• RIP Jenny Diski whose death from cancer wasn't a surprise when she'd been writing about her condition for many months. Linked here in 2013 was this pre-diagnosis meditation on death that takes in Nabokov, Beckett and Francis Bacon (philosopher, not artist). "Jenny offered a living example of how, sometimes, compassion can be born of misanthropy," says Justin EH Smith. The LRB's archive of Diski writings is currently free to all.
• Murder by Remote Control, a graphic novel by artist Paul Kirchner and writer Janwillem van de Wetering that "resembles a Raymond Chandler-esque noir 'whodunnit,' viewed through the psychotropic lens of filmmaker Alejandro Jodorowsky".
Inspired by Gore Vidal's 1968 satirical novel, Myra Breckinridge which was denounced as obscene by conservatives, [Boyd] McDonald embarked on a radically, offensive publication, one that avoided the sexless influence of middle class gay mores that sought to whitewash the homosexual experience in order to present a more palatable image of assimilated gays to the general society. This political strategy was successful in achieving gay marriage and more tolerance, but, in the opinion of McDonald, came at a cost. Straight to Hell was in fact the first queer zine. Utilizing erotic photos, interviews and news, McDonald saw it as a "newsletter for us," the small group of deviates who were its earliest subscribers.

Walter Holland reviewing True Homosexual Experiences: Boyd McDonald and Straight to Hell by William E. Jones
• "HP Lovecraft's…fascination with all things tentacular and aquatic is unmistakably imprinted on Evolution", a new film by Lucile Hadzihalilovic. Watch the trailer.
• At Dangerous Minds: Broken, the notorious Nine Inch Nails video collection with "snuff movie" interludes by Peter Christopherson, is available online (again).
• BEAK> (Geoff Barrow & Billy Fuller) make "claustrophobic, hypnotic music, drawing…on krautrock, post-punk and Interstellar-Overdrive psychedelia".
• Mixes of the week: Bacchus Beltane 3 : The Age of Abrasax by The Ephemeral Man, and Secret Thirteen Mix 183 by December.
• Tease by Jan Rattia, photographs of male strippers on display at ClampArt, NYC.
• Wu Zei (2010), a sea-monster sculpture by Huang Yong Ping.
• "I was born weird," says Robert Crumb.
• Sacred Revelation by Susanna
• Broken Head (1978) by Eno, Moebius & Roedelius | Broken Horse (1984) by Rain Parade | Broken Harbours (Part 1) (2001) by Stars Of The Lid