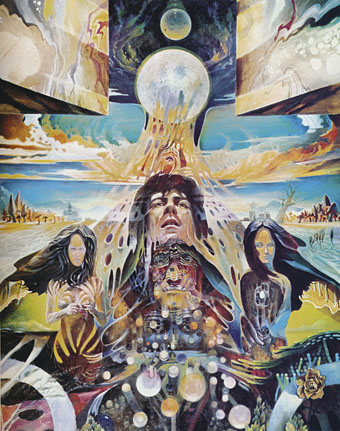 Untitled painting by Larry Kresek.
• "A good comparison might be Broken English-era Marianne Faithfull, Appalachian folk singer Hedy West, or the early-70s home recordings of German actress Sibylle Baier; spellbound female voices possessed of an uncanny emotional honesty." Andrew Male on the songs of Karen Black. In 1989, the first issue of Psychotronic Video profiled Black's remarkable acting career which was cultish enough for the magazine to give her the "psychotronic" label.
• Coming soon from Strange Attractor Press, In A Sound World by Victor Segalen, "a work of fantasy concerning an inventor lost in his own immersive harmonic space".
• At Messynessychic: Inside the Imaginarium of a Solarpunk Architect, or architectural designs by Luc Schuiten, brother of comic artist and illustrator François Schuiten.
• De Strijd der Werelden, 1899. The first illustrated book version of HG Wells' The War of the Worlds was a Dutch edition with drawings by JH Speenhoff.
• New/old music: Words Disobey Me (Dennis Bovell Dub Version) by The Pop Group, part of a forthcoming Bovell remix of the group's debut album, Y.
• Mixes of the week: A mix for The Wire by Sunik Kim, FACT Mix 817 by Malibu, and Rhythmic Asymmetrical Wyrd by The Ephemeral Man.
• "Whatever we call them, and whatever else they might be, they are, in fact, printed paintings." Joseph Visconi on William Blake's monoprints.
• Curious Music announces Moebius Strips, an audio installation by Tim Story from the sounds and music of Dieter Moebius.
• At Dangerous Minds: Richard Metzger's confessions of an analogue vinyl snob.
• Strange Flowers departs from tradition by offering a summer reading list.
• Moebius 256 (1977) by Zanov | Moebius (1981) by Cyrille Verdeaux | Elena's Sound-World (2014) by Sinoia Caves