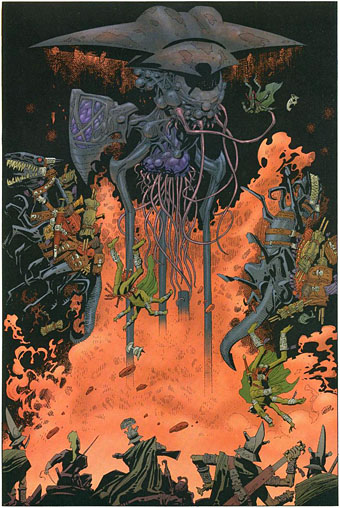 A local dispute on the planet Mars. Art by Kevin O'Neill from The League of Extraordinary Gentlemen.
• "…this image has puzzled enthusiasts of the scientific mystic's works, both for its obscure provenance and cryptic symbolism. With its pastiche of Renaissance visual style and medieval caption — "A missionary of the Middle Ages tells that he had found the point where the sky and the Earth touch" — the illustration was once thought to have originated centuries before Flammarion published his text." Hunter Dukes on the enduring mystery of the "Flammarion Engraving".
• "For Spare, radio, and the waves that carried the music he loved to listen to, were more than just a metaphor for the spirit world. They were an active mode of conveyance for occult energies and vibrations – the swirling, ectoplasmic tendrils from which odd figures emerge in some of his most dense and haunting work." Mark Pilkington explores Austin Osman Spare's influence on the world of music.
• At Spine: Design studio Milk & Bone's designer Alicia Raitt re-imagines all 14 of Kurt Vonnegut's book covers to celebrate his 100th birthday.
• Farewell to Kevin O'Neill and Nik Turner, both of whom headed to the Western Lands this week.
• Mean, moody and magnificent: film noir studio portraits – in pictures.
• Mix of the week: XLR8R Podcast 773 by Roméo Poirier.
• New music: Evergreen by Patrick Shiroishi.
• Brainstorm (1972) by Hawkwind | Hurricane Fighter Plane (1985) by Inner City Unit | Brainstorm (1993) by Monster Magnet